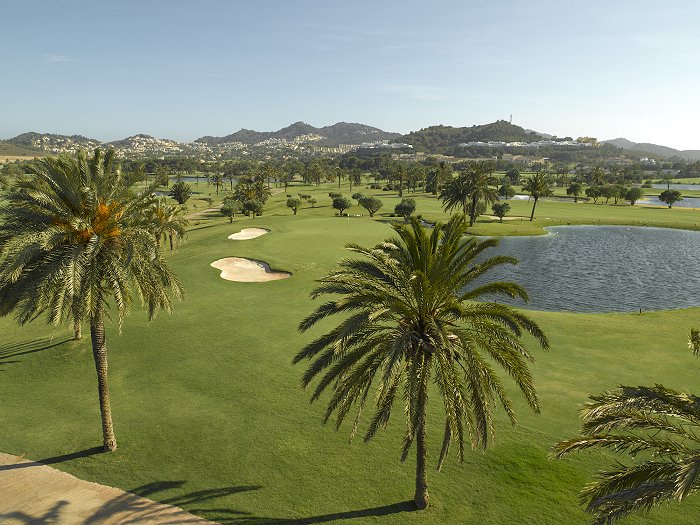 Lower back pain can overshadow even the best day of golf, but at La Manga Club we are golf experts, and we want to share the keys for optimal performance with you so you can be in the best possible physical condition for your golfing game. With three 18-hole golf courses spread over an area of almost 6 square kilometres, our resort is one of the most renowned golf courses for both amateur and professional levels alike. Enjoy our amenities from early morning onwards by following the recommendations below. Show off your best swing while using best practises to prevent injury.
First and foremost: the warmup
Despite being a low impact sport, golf is not exempt from risk if it is not practised with the right posture, strength and flexibility. A deliberate dynamic warm-up prior to tee-off adds up to safer movements and therefore a better game. The key to playing your best and a tip from La Manga Club, one of the best golf courses in Spain is: the warmup. A proper warmup to prepare the muscles is essential for good performance in any sport and with golf it is no less important. Exercise your legs with a brisk walk combined with stretches focusing on your forearms, hands and wrists. Move your shoulders, pelvis and spine and finally, swing the golf club progressively, increasing the range of motion and speed.
Move about the course with ease
A day of golfing requires continuous movement around the course, so comfort is a priority, not only in terms of clothing and footwear but also regarding all of your golfing equipment. At La Manga Club we always recommend that our clients do not carry golf clubs on their shoulders when they play, even though this is a common practice among players. A far better option is to make use of the trolleys or caddies that guests can find at their disposal. In lightening the load, players can move and play with more freedom and, above all, not put any unnecessary weight or strain on their lower backs.
Exercising flexibility
Excessive rotation of the lower back can often lead to discomfort. It is important that players concentrate on their position, practice mindfulness and use a stretching routine to help improve flexibility for the ultimate swing and to avoid lower back pain. Therefore, as mentioned above, players should dedicate at least 10 minutes to stretching the forearms, hands and wrists right up to the shoulders. Another highly recommended tip is to try and keep the frontmost heel slightly raised at the end of the backswing. Your swing will be noticeably more fluid, and this movement also helps to generate less negative impact on your lower back too.
Combine golf with other sports
Beyond golf, players should engage in other sporting activities, as this reliably keeps you in the best physical condition year-round. At La Manga Club we recommend that you include cardio or aerobic activity such as swimming, running or cycling in your sporting routine to keep in shape; all can easily be practiced at our five-star resort.
No matter what your level of play is, at La Manga Club you can count on personalised advice from professionals dedicated and trained to give lessons. Whether you have never picked up a golf club, if you have fallen into "bad habits" or you need to improve your game, we can give you expert advice. Find out which postures are best for your physical health and for your game and how to better achieve your goals on our world-class golfing greens.