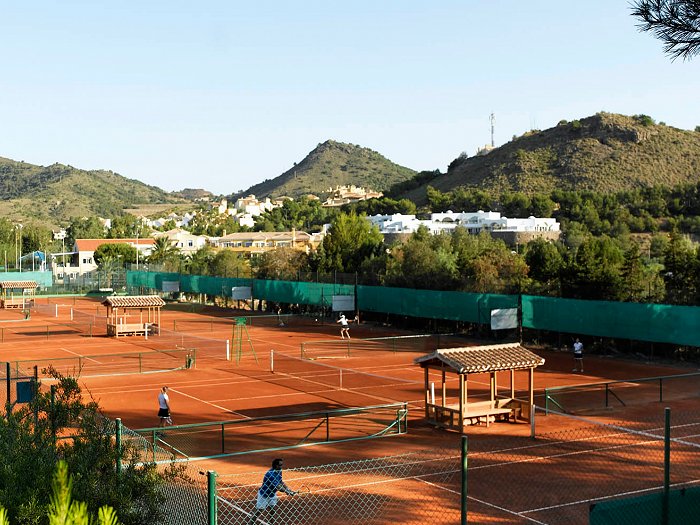 Maintaining healthy habits is easier when you have facilities near your La Manga Club home. Fortunately, our owners enjoy the privilege of having one of the best outdoor tennis centers in Europe right here on the grounds. Comprised of 28 courts, almost all with night lighting, these facilities have hosted top-level competitions like the Davis Cup, the Fed Cup, and the ATP.
Players of this fun and exciting game for all ages can choose between 20 clay courts, four hard courts, and four artificial grass courts. Or if you prefer, you can try a new challenge on the squash court. With this extensive and complete infrastructure, a similar offer in Spain is hard to come by.
If you have a home at La Manga Club home and you still haven't taken advantage of this sport's great physical and mental benefits, today we're going to remind you of the positive changes your body will experience as soon as you begin picking up a racket regularly. In terms of your physical capacity, you should know that tennis players experience considerable improvement in joint mobility in general, greater coordination, and increased flexibility and agility. In addition, your aerobic capacity increases as you gain endurance and your cardiovascular and respiratory health improves. And, of course, playing tennis tones and strengthens the muscles and joints. In fact, many studies conclude that practicing a healthy sport like tennis increases life expectancy and delays the onset of physical and cognitive functional impairment.
Because it is such a fun sport, tennis also offers benefits your mind because it favors social interaction, facilitates the release of stress, and increases intellectual capacity by enhancing strategic focus and creativity. In 2018, the Copenhagen City Heart Study published the results of research conducted over 25 years, following almost 9,000 people segmented by their sports habits. The study concluded that tennis is the healthiest sport because it was shown to extend life by 9.7 years for those who practiced it regularly. It is not surprising, therefore, that in Spain we have a National Championship with a category for tennis players over 85 years of age.
So, if you, too, want to benefit from the magic elixir of playing tennis, our resort is the perfect place. Every time you come to your La Manga Club home, make sure to book at the Tennis Center. Besides the professional and well-cared-for courts, you will receive first-class service and be informed of all the services available. Rent equipment from top brands or buy the pieces you need in our shop, or enjoy the gym equipped with the latest technology to help you complement your exercise regimen in a safe, practical, and balanced way. What more could you need?