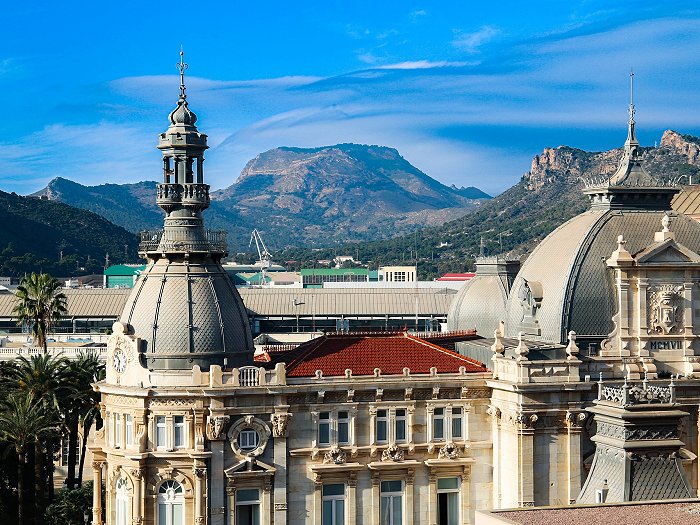 Docking in the port of Cartagena is step one of the new Murcian tourism experience, which includes playing golf at La Manga Club, visiting the beaches of Calblanque, seeing the Isla del Barón, and even attending an exclusive cooking demonstration. These are just a few of the activities that top the lists of Anglo-Saxon visitors travelling by sea, and Cartagena is rapidly becoming a preferred destination for tourists who prefer to avoid the throngs in Barcelona and Valencia. Cruise ships, yachts and private boats are coming in ever greater numbers in search of unique activities that are private, fun, and lead to new Spanish cultural discoveries.
According to official data from the Port of Cartagena, 56 luxury vessels docked in 2019, but this number has practically doubled since then, reaching 91 already in 2022. And the recent arrival of the Scenic Eclipse, an ultra-luxury cruise ship with 200 passengers, revealed some of the demographics of this new consumer. Most are retired U.S. citizens with high purchasing power and a keen interest in making the most of their time on land. Companies specializing in catering to this type of tourism agree that playing golf at La Manga Club is one of these passengers' first demands, as well as some of the other activities cited below.
A golf day at La Manga Club
With an international reputation that precedes it, many of these visitors arrive already having heard of La Manga Club's three 18-hole courses, ranging over almost 6 square kilometers, that are a good challenge for professional and amateur golfers alike. Great players like Arnold Palmer and Severiano Ballesteros paved the way for stars from the worlds of sports, cinema and music to come to know this Spanish golf resort over its 50-year history, so it's not surprising that Cartagena tourists want to experience the courses for themselves.
Relaxing at Calblanque Beach
Another excursion in high demand is a few hours at Calblanque Beach. Located just 30 minutes from the Port of Cartagena, this magical enclave of protected coves is an oasis at the seashore where you can sunbathe and truly relax, or, for more active travellers, go hiking in the Calblanque Regional Park, Monte de las Cenizas and Peña del Águila. The activities chosen depend on the time the tourists have ashore, but all these Mediterranean voyagers are amazed by the cleanliness of the water, the variety of fauna and the picturesque beaches.
Sail by the Isla del Barón
Those who haven't had enough of sailing like to take trips to Isla Mayor, also known as Isla del Barón. Considered "the jewel of the Mar Menor," this island belongs to the Figueroa family who, for generations, have undertaken an ecological crusade to keep it alive within a sustainable ecosystem. With solar panels for energy self-sufficiency, among other efforts, the Isla del Barón has obtained a Wildlife Estate certification, granted to private properties that have proven they respect stringent standards for biodiversity preservation. As the island is private, it cannot be visited, but it can be contemplated from the sea.
The delights of a good cooking demonstration
Arriving in Cartagena is a great opportunity to visit a European city that preserves much of its Roman heritage, but after an urban tour, there's nothing better than a good meal featuring the best of land and sea. With Michelin-star restaurants and renowned chefs leading several other projects, the culinary offer of this corner of Murcia is a stand-out in the Spanish gastronomic world. To satisfy the demanding palates of the tourists who arrive on luxury cruisers, there are now numerous opportunities to watch cooking demonstrations featuring seasonal ingredients and traditional recipes, and then sample the results, of course. When combined with a musical or dance performance, as many are, this is an activity that has gained popularity.
Residents of La Manga Club know there's plenty more that Cartagena and Murcia have to offer, but it's always interesting to get a glimpse of the tourism trends in the area. Cruise tourism is becoming more popular with each passing year, so it's no wonder we're starting to see more of these visitors playing golf at La Manga Club or trying out one of the myriad activities we already know and love in this special part of the Mediterranean.