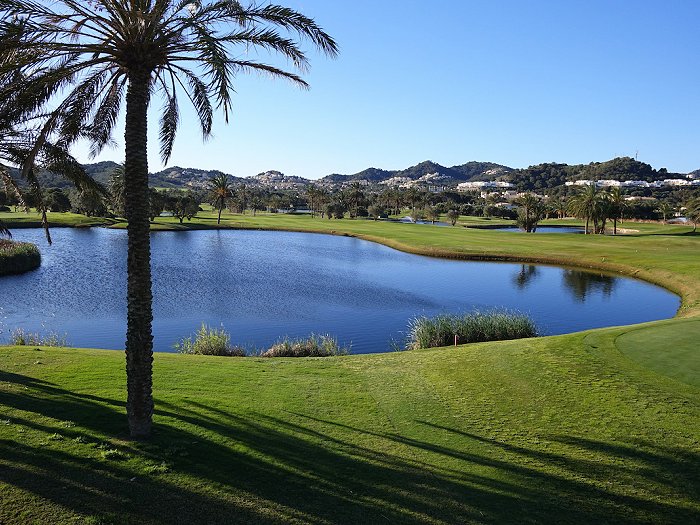 Having a house at La Manga Club is something every golf enthusiast dreams of, not only because of our reputation as a first-class sport resort, but also thanks to the quality of our facilities, which have earned the title of "Royal Golf La Manga Club" from The Royal Household of Spain.
Enjoying the almost 6 km2 of land dedicated to your favourite sport is a luxury afforded to very few, but if you have purchased a property at La Manga Club, planning the perfect golf day will cost you very little.
Whatever your level of play, you can start by training at our recently established Academy, where there are plenty of lessons to choose from for every level, as well as individual and group options. We also have two state-of-the-art teaching rooms with Trackman and Bull 3D analysis systems, along with 4 group rooms and a driving range.
Practice in our Pitch & Putt, designed by Severiano Ballesteros, an 18-hole course accessible for any level of player, including those who are just starting out in golf; an excellent option for those who just want to enjoy a day out with the family.
Alternatively, perhaps your ideal day of golf involves one of the three professional-level courses just steps from your luxury home:
The North Course: designed by Robert Dean Putman in 1971, it's an ideal option if you are looking for a technically accessible course.
The South Course: remodelled in 2005 by the famed American player Arnold Palmer, it's suitable for intermediate level golfers.
The West Course: the most demanding of our courses in terms of play, and designed by professional golfer and renowned golf course architect Dave Thomas.
Finally, after a perfect day spent golfing, a visit to the Clubhouse is a must. Its location at the heart of our resort makes it easily accessible from anywhere. There, you can visit our shop, stocked with products from well-known brands, as well as exclusive clothing from Real Golf La Manga Club. Another option is to sit back and relax at the 37 Spike & Sports Bar, enjoying exceptional views and a mouth-watering lunch after an excellent round of golf. Oh, and don't forget that after a hard day's work, you can always restore your equilibrium at our Wellness Centre.