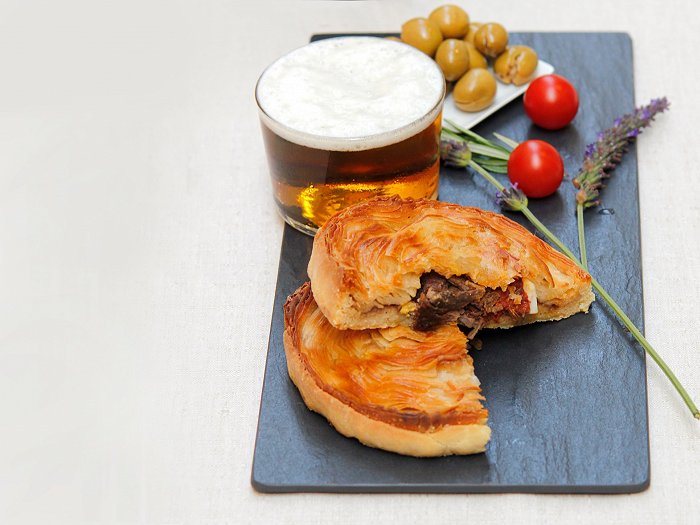 Spain is the land of tapas, and when you visit your property at La Manga Club it's practically an obligation to delve into local Murcian tapas. There are tapas popular nation-wide, of course, but if you want to be a true connoisseur when you visit your second home, make yourself familiar with these delights that bring together local ingredients in preparations you never imagined. Here's a practical guide to the regional basics!
The seafood tapa
This is one of the Murcian tapas par excellence, the fruit of the region's favored proximity to the sea and all its bounty. Tradition and the longtime success of this local preparation should be enough to convince you to order an ice-cold beer and give it a try. The tapa takes a crunchy piece of toast as its base, covers it with ensaladilla rusa, and tops it off with an anchovy. Locals and foreigners alike have sung its praises and, perhaps even more telling of a true phenomenon, have developed two variations over the years as different venues and homes have made it their own. The first one replaces the anchovy with a boquerón, which is an anchovy that has been marinated in vinegar rather than cured with salt. The second variation is even more broad, consisting of a tapa whose base is the bread crust and ensaladilla rusa, thus opening up an infinite number of possibilities for the final topping.
The meat pasty (pastel de carne)
This tapa is ubiquitous throughout Murcia, and you can set yourself the challenge of trying as many different versions as you can get your hands on. A total classic, you should be able to find some permutation in almost any bar you enter. Its Arabic roots lend it the weight of tradition and its delicious complex flavors, consisting usually of a pastry filled with beef, chorizo, egg, and spices. All the ingredients are baked together in small pie molds, with a covering sheet of pastry as well. The result is a juicy, crunchy masterpiece that's as portable as it is tasty.
The zarangollo tapa
Local products cultivated and matured in Murcia are the base of this tapa that you can't leave off your gastronomic bucket list for the next time you visit your apartment at La Manga Club. Zarangollo is one of the purest of Murcian tapas, consisting of an egg scrambled with local products like potato, zucchini and onion. The combination is so tasty that it has become one of the star tapas of the region, and is even offered as an entrée in many bars and restaurants in Murcia. You can find and enjoy it at any time of the year, but it reaches the peak of its ubiquity during the biggest festivals, like the Fiestas de Primavera, in spring, and the Feria, which is celebrated in September.
The michirones tapa
Another hearty tapa very typical of the region is michirones. As with zarangollo, it's especially popular during the major festivals in the Region of Murcia, but any day of the year you'll be able to find it on a bar or restaurant menu on the Costa Cálida. Michirones are a stew whose principal ingredients are broad beans cooked with other savory bits like chorizo, pancetta, bay leaf, garlic, ham bone, paprika, ground pepper, and salt. It's the unique flavor of Murcia rolled up in a filling, warming casserole dish, and a perfect way to sample all the region's incredible produce.
Order these authentic, traditional Murcian tapas, and you'll fit right in with the Murcian locals. You have a unique opportunity, thanks to your home at La Manga Club, to taste the difference between world-class, home-grown products and whatever you get in your supermarket at home. Don't waste this opportunity, and tap into some of Murcia's best-kept secrets!