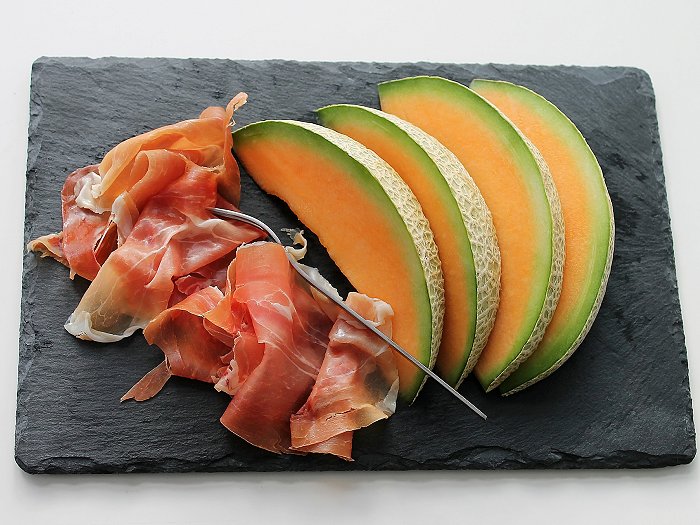 Refreshing, sweet, aromatic… allow us to introduce you to the Murcia melon, a real delight for the senses, grown very close to your home in La Manga Club. Known as the orchard of Europe, Murcia is the leading producer of fruit and vegetables for export in Spain and the Cucumis melo L, though tropical in origin, stands out for its exceptional quality in the temperate climate of this region.
Grown in a soil providing the perfect conditions with which to develop its unique characteristics, it can be enjoyed in a variety of ways. Whether eaten alone or included in a smoothie, the melon provides an array of ways to be savored. Today we suggest a selection of recipes with Murcian melon that are both healthy and appetising, to enjoy at home, on the beach, in the swimming pool or at a picnic. They are so simple that there is no excuse not to prepare one today! Enjoy the aroma of summertime and relaxation, with smooth textures that melt in your mouth.
Rolled up Serrano ham slices with melon and figs
The traditional king of melon dishes is when it is served paired with Serrano ham. While delicious, today we'd like to introduce a more original and exotic twist: rolled slices of Serrano ham with melon and figs. Awaken your tastebuds with flavours of the East and the Mediterranean, rolled in one.
If preparing for four, you will need very thinly sliced Serrano ham (4 slices), Murcia melon (150 grams), dried figs (6), Mascarpone-type cheese or similar (200 grams), port wine (2 tablespoons), ground black pepper and salt.
To begin, cut the figs into small pieces and leave them to soak in the port for at least a quarter of an hour. After the required time has elapsed, take them out of the port and dry them thoroughly on paper towels. Meanwhile, cut the melon into small cubes and mix well with the cheese until you get a smooth paste. Have salt and pepper at the ready.
To assemble, spread a slice of ham out on a piece of transparent film, fill it with approximately 25% of the mixture you have just prepared, and roll it up gently with the help of the film. Repeat with the rest of the ham slices and leave them in the fridge for at least two hours. Cut them, remove the film and serve them with a delicious, sweet wine. Any guest at your Manga Club home will be pleasantly surprised by this exceptional mixture of flavours. Add salt and pepper to taste.
Transform your melon with ham from an appetizer into something more
We touched on the classic of all classics, melon with ham as an appetizer, but why not make it an even more substantial part of the meal? If you spend long periods of time at your property in La Manga Club you well know that summers last a little over three months and that the mild temperatures in this area mean cold soups can be eaten year-round. So, a Murcia melon soup is an excellent option for a quick and easy start to lunch, paired with something else delectable.
To make the melon soup, you will need very thin Iberian ham slices (50 grams), onion (1), natural sugar-free yogurt, cooking cream (125 millilitres) and chicken broth (half a litre). Chop the onion well and fry it in oil until translucent. Add the chicken broth and the peeled, chopped, and deseeded melon. Cook for 20 minutes and then blend in a mixer whilst adding the yogurt and cream until you obtain a soft and delicate soup. Chill it in the fridge until ready to serve. Meanwhile, prepare the toppings (ham being, of course, the most important). Prepare it in thin slices. Other possible toppings are fried potato or sweet potato chips, croutons, chopped chives, basil or parsley…set your imagination free!
Melon salad: tasty and simple
Melon has a high water content and, as such, though low in calories, a taste, texture and aroma that enrich any dish, however simple they may be. Such is the case with this spinach salad, which is quick, easy, and delicious.
In any market in Murcia, you will find top quality spinach worth bringing home. Wash and cut the leaves, add small pieces of feta cheese (you can opt for fresh cheese if you want a lighter version of this dish, although the Greek lends it an exceptional touch), nuts (do not chop them up, leave large and in uneven pieces), and, of course, a good sliced melon. Dress this salad as you like, making sure to include a good extra virgin olive oil. We also recommend you add a good Modena or Pedro Ximénez vinegar, as the spinach pairs well with the sweetness. A light, simple, quick dish that you can enjoy for any meal in your home in La Manga Club.
Melon recipes provide endless possibilities. Thanks to the versatility, texture, sweetness and aroma of this fruit, it brings a touch of originality and freshness to any meal. And its health properties are valuable as well. It is low in calories, has a high potassium content, promotes the development of red blood cells, is a diuretic, and even serves to slow the aging process. We predict melon will become a commonplace ingredient on the table at your La Manga Club residence.