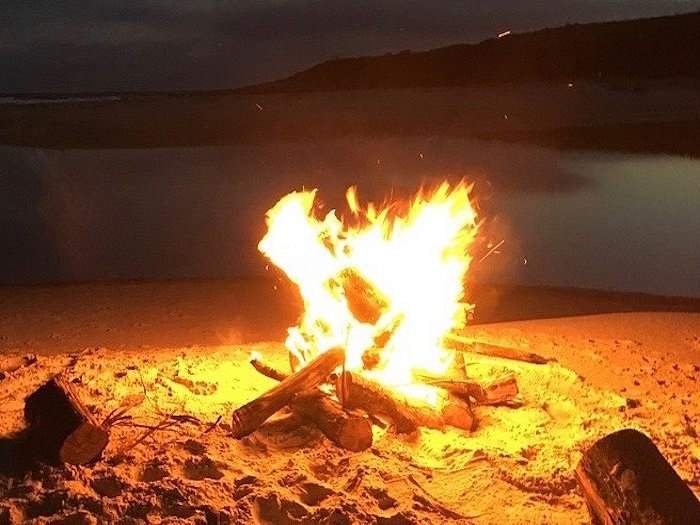 In a country famous for extending its parties until dawn, the shortest night of the year brings the longest celebrations. Murcia offers the opportunity to celebrate the exceptional night of the 23rd of June by jumping over the traditional bonfires, dancing until daybreak, taking a dip in the moonlight, or even running! If it's your first time, think about what you hope to attract to your life and what you want to be set free of, because on San Juan, anything is possible…
San Juan with your family
On the special night when you ask the universe to grant your wishes, what better plan for San Juan than sharing conversations and good times with those you love the most? In numerous areas and neighbourhoods, Murcians take advantage of this festival to get together with their family and friends outdoors, enjoy grilled sardines, take part in 1001 festival activities, and jump the bonfires that allow them to purify their lives and do away with the bad. If you're convinced that this sounds good, you'll find what you're looking for very close to your property at La Manga Club: in neighbourhoods like San Juan de Murcia there will, of course, be obligatory celebrations, but very close to our golf resort, in Cartagena, as well as in La Manga del Mar Menor, Lorca, Satinago de la Ribera and Caravaca, there are activities aplenty as well. Check out the city websites and you'll surely be delighted by their offer for San Juan.
A rhythm-filled San Juan
Just because San Juan is famous for being the shortest night of the year doesn't mean that you can't enjoy events that last hours upon hours. This is the case in Murcian cities like Águilas and Los Alcázares, where they take advantage of this magical night to invoke the good spirits to the rhythm of the best DJs. The second edition of the Hellos Summer Playas de Águilas, for example, welcomes the summer an hour by car from our resort: beginning at 11pm, there will be performances from Sr. Jorquera and Fabi Sánchez, though the headliner will be Alberto Gambino, a well-known Spanish rapper. Closer, a half hour from your property at La Manga Club, Los Alcázares will feature sessions with Sofía Cristo, Little Nookie, and Ángel Pop, in a special San Juan festival that begins at 8pm with fun and a foam party and finishes with the traditional bonfire jumping.
San Juan on the streets
In the Murcian town of Molina de Segura they also go for musical entertainment, but they have additionally turned the San Juan celebration on its head by offering the first Molina Run&Rock, a race in which all running enthusiasts are encouraged to take to the streets by the light of the moon. The route, which winds through the centre of the city, begins at 9pm, with the start and end point in Calle Mayor with Plaza de España. The longest route is 5 kilometres, but there will also be several routes for children and a kilometre-long Adapted Sport route. So if you're interested, hurry! The inscriptions close this Wednesday the 20th!
As a backdrop to the race, located just an hour by car from our golf resort, there will be a large bonfire in front of the City Hall of Molina de Segura. After the awarding of trophies, around 11pm, the Rock Music Festival will begin in Plaza de España, with acts by Sherpa (ex-Barón Rojo), Shuarma (from the band Elefantes) and a David Bowie and other rock classics tribute band.
San Juan in the water
From a celebration in its first year to another with years of tradition behind it, San Juan has all the ingredients to draw us in. In Bullas, a bit more than an hour from your property at La Manga Club, the legend of "La bajada de La Mora" will again bring hundreds of people to the Usero Waterfall to swim in the Mula River. The gathering, at midnight, is a re-enactment of the love story between a Christian prince and a Moorish princess that met in secret in this place in the Murcian municipality of Bullas. On a stormy night, not finding her lover awaiting her, the princess entered the waters and disappeared. Since then, they say that on San Juan she returns to the Usero Waterfall trying to meet him again. Every year the myth attracts ever more visitors enthralled not only by the romantic story but by their interest in welcoming the summer with a good dip in the middle of the night…
Have you already decided on your San Juan plans? Whichever you choose, here at La Manga Club we suggest that you take the necessary precautions to protect yourself not only from the multiple bonfires but also from the insanely loud firecrackers that proliferate. Read more about the pagan tradition behind this festival in last year's post about San Juan, and don't forget to pick your special incantation this year: the one that will bring you health, wealth, love, or whatever other good thing you need in your life. On a magical night like San Juan, nothing is impossible…