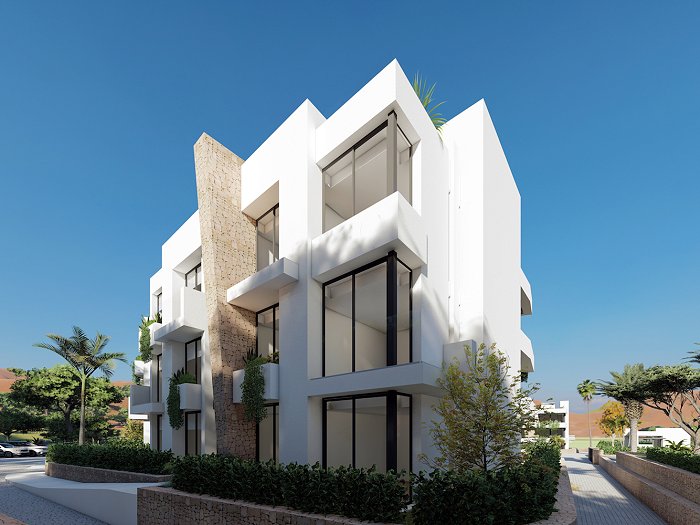 Owning your own home in a top sports resort can transform your life; this kind of investment in Spain means you can enjoy a residential community with a long list of services also at your disposal. The Las Orquídeas residential community at La Manga Club is a modern, safe and well-located apartment complex that can function as a first or second residence, allow you to work at home remotely, or be a space to drop into at any time, thanks to its year-round springtime weather. Whatever the motivation driving your purchase, you'll find Las Orquídeas offers the advantages you seek.
A community with everything you need
Las Orquídeas is a residential community located at the heart of La Manga Club. Just a five-minute walk will bring you to shops, restaurants and, of course, the sports facilities that distinguish this resort as one of the best in Europe. The unbeatable location is strengthened by the temperate climate of the Murcian region, its proximity to the Mar Menor, and a family-friendly atmosphere that unites more than 2,300 residents. People from many different countries who love golf, tennis or football have found in La Manga Club the perfect haven. Nature lovers value having an apartment or a villa surrounded by protected green space and located in a magical spot between the sea and the mountains without the bustle of big tourism cities.
Modern architecture
A real estate investment is an important decision, and factors like location, the value of the property, and the quality of the architecture must all be weighed. At Las Orquídeas, the design and the choices of materials and finishes have been masterfully handled by Innov·arq Studio, who are also supervising the execution of the project. With simple lines in harmony with the landscape, these apartments' white façades stand out for their modern aesthetic that still feels very Mediterranean. The natural stone of the Murcia region also figures, and the apartments have large corridors and windows so air circulates freely. The freshness and natural light are two of the best aspects of this complex of open-plan spaces in perfect communication with the landscaped gardens and community pool outside.
An active resort
Another great advantage of Las Orquídeas is that this investment in Spain is located in a resort with numerous leisure and sports facilities. If at any point you want to sell your property, there are always potential buyers. Many people seek resales at the resort because Real Golf La Manga Club continues to be thronged by golf lovers who relish being able to train at any time of the year thanks to our mild Mediterranean temperatures. With the luxury apartments in Las Orquídeas providing two or three bedrooms, large terraces, private parking and access to the shared pool with outdoor gardens, tourists will always find their perfect space. Golfers who need accommodations for a getaway or families who want privacy and security in an apartment for individual use find themselves at ease in their space and in a resort with restaurants, shops and services.
Owning an apartment on the Mediterranean will always be a good investment in Spain, but Las Orquídeas offers even more, as an opportunity to establish a secure link with a consolidated resort like La Manga Club.