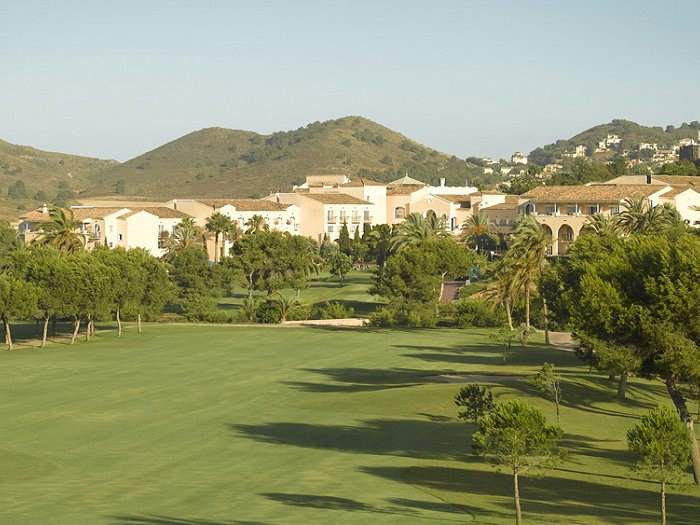 We can shout the praises of our Las Lomas flats up and down the Costa Cálida, but it doesn't hold a candle to hearing it straight from our residents' mouths. This month, a lovely Irish family offers us a privileged view into their lives at La Manga Club.
Tell us a bit about your background: where are you from and what kind of experience in Spain (holidaying or living) did you have prior to purchasing your flat?
We are an Irish family of six and have been coming to La Manga Club for well over 20 years, over half of that to our own apartment. The initial attraction of Spain was obviously the beautiful weather and ease of access, with flights from Ireland and the UK. But especially with a young family, it would also have to be the people themselves, who were so welcoming and embracing of tourists, especially children of all ages, in all sorts of situations: shops, restaurants, everywhere.
This welcoming nature is one of the subconscious traits of the Spanish. It draws, I think, from the way their own society is so extended-family orientated. What's charming is that they themselves don't seem to fully recognise how unique this is, or realise its importance to holidaymakers. It really elevates Spain above most other holiday destinations. It doesn't necessarily get highlighted enough, but is certainly noticed and taken account of when it comes to making a real decision about purchasing a holiday home.
La Manga Club also has the added advantage that despite being such an extensively large and spread-out facility, it is quite safe, with its own in-house unobtrusive security personnel. The shopping, entertainment and children's facilities are relatively contained in one location, while more mature teenagers can still spread out and explore the various locations yet remain within the complex itself and not have to go beyond it.
Above all, the staff at La Manga Club are the true promoters of its facilities. No one would keep coming back time and time again if they weren't the real ambassadors for the destination. This is true right across the board; while we all have our different favorites from front-of-house staff like receptionists, waiters, bar keepers, etc., they are only half the success story. They are assisted and supported by their equally excellent and important back-of-house colleagues from the maintenance and gardening staff, housekeepers and more. How these individuals keep the landscaping so absolutely manicured and pristine or the facilities clean and tidy without ever being obtrusive or intolerant never fails to impress and is truly a mystery. The staff may not be aware of this effect, but it's constantly commented on, complimentarily, by the many users of the resort's facilities.
How did you come to choose a Las Lomas flat? What features of the property attracted you?
We had always stayed either at our friends' apartment or the hotel and wanted somewhere more permanent. We decided Las Lomas offered an excellent package that allowed for investment but also flexibility, without the headache of ongoing continuous responsibility and maintenance, etc.
What changes have occurred in your life now that you own a home abroad?
The most important change has been the ability for any of us to make a last-minute decision to take a break and visit for short periods. The Las Lomas staff always seem to be able to accommodate us with suitable arrangements, so that takes the trouble out of worrying about where and when to get away.
Was the purchasing process easy?
The purchasing process was easily facilitated by La Manga Club and included really excellent personal legal/accountancy services from a local lawyer and his colleagues, whose office is within the complex itself. It made it all relatively easy and even to this day they continue to assist and advise, looking after the legal and property tax issues with the local government bodies.
What have you learned about La Manga Club since becoming part of the community?
Our visits are purely short-term breaks or holidays, but all our family and friends have commented on how everyone is very friendly and relaxed, out to enjoy his or herself. Without interfering with others, everyone is still friendly and happy to engage with all comers.
Each of the different locations within the resort complex has a certain unique flavour about it. Just recently we visited an old haunt of ours from our first holiday, having lunch at Los Molinos. We discovered that the lovely proprietors just happened to be celebrating 25 years in business there with their family, and it was still as entertaining, warm and welcoming as the very first time we went there.
What we have particularly noticed over the years, especially recently, is how La Manga Club has opened up to a wider, more cosmopolitan range of visitors from virtually all parts of Europe and beyond, especially the Scandinavian countries. But the real lovely change we've seen in recent years is how many indigenous Spanish families are now using The Club as a short- and medium-break holiday destination. It definitely enhances and adds to the unique flavour and above all authenticity of the facility.
Did you buy your home refurbished, or have you begun the process of refurbishment?
No, the apartment was part of a complete package arrangement, fully furnished and ready for use straight away, expertly maintained, and we have never had a negative issue with it since.
What makes La Manga Club a great place to own a home?
It's just a lovely, interesting part of Spain, offering ease of access via Alicante and Murcia airports from Ireland and the UK, which our extended family and friends use to access the facility. The weather is usually fantastic all year round, but if not and there is some inclement weather, it's not a big deal as the alternative indoor Club facilities are fantastic.
In addition, there are numerous non-weather-dependent on- and off-site activities to engage in and plenty places to visit and explore in the surrounding villages and cities. As well as the obvious golfing and tennis facilities, there's walking, hiking and cycling and more to engage in at whatever age or ability. The Club facilities cater to all ability levels…even none!
The nearest town, Los Belones, and its surrounding sister villages are still an absolute delight with their mixture of old and new buildings, shops and churches, combined with friendly native cuisine restaurants and bars. They all have a delightful, tolerant Spanish community but we have to confess that we consider the Via Romana in Los Belones to be the best-ever Italian restaurant, bar none.
Murcia City is relatively close by and has a mixture of beautiful new and old architecture with numerous fabulous shopping facilities and riverside walks. And our own particular favourite, Cartagena city, is even closer and a hidden gem with an eclectic mixture of Spanish and Roman architecture with amazing, interesting ruins and an active, vibrant harbour port with plenty to see and participate in.
Have you found the usage/rental arrangement of Las Lomas to be of your liking?
Absolutely. The La Manga Club management look after all the arrangements and are as flexible as possible with regard to any suggestion being made, going out of their way to be accommodating and work through any reasonable request.
Describe what are, for you, the Las Lomas community's best features.
Undoubtedly the staff have to be given credit for being front-and-centre of everything. That continues to be the primary attractive feature of Las Lomas, above all else. Combined with that are the excellent nearby pools, spa and indoor facilities, which are perfectly maintained and staffed all year round.
Any regrets about buying?
None whatsoever. It was a highly considered expenditure, of course, but our continual use and enjoyment has more than made up for it, which is a remarkable observation to make about any property investment. What we and our friends with properties at La Manga Club are also finding now is the lovely situation of our growing families continually and independently using the facility with their friends and being equally impressed and thankful to the management and staff for some memorable holiday vacations.
No such holiday or entertainment facility would survive or have so much repeat business just on one feature alone, such as weather, entertainment, golf, food, etcetera. It's the whole package, and that's where we consider La Manga Club is excellent and has the continual winning formula that brings people back time and time again. One knows what one's going to get and it's consistently excellent or even improved, every time.