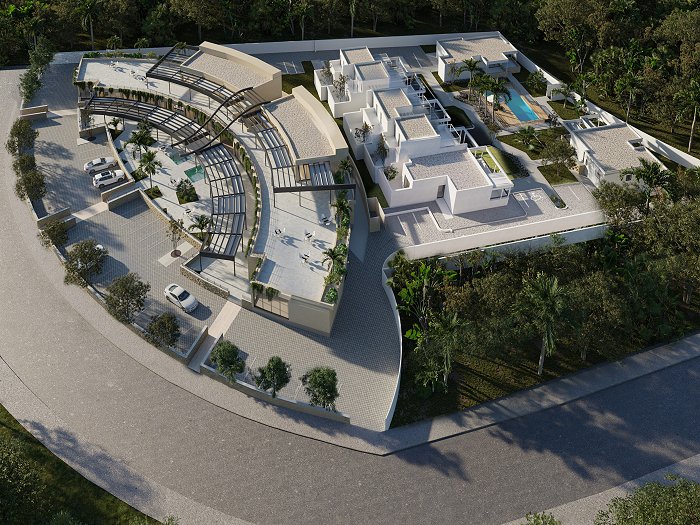 Development of La Manga Club Properties' next project, El Boulevard, is already under way. The community consists of two villas and five apartments, plus a modern shopping center with 16 commercial spaces. The architects responsible for the work are Carlos Javier Martínez Ruiz, Ignacio García-Martos, and Rafael Amat from the CMR Arquitectura studio, who have designed a project that will only serve to enhance the harmony and beauty of its surroundings.
El Boulevard de La Manga Club is almost an independent community within the complex. "This development is for buyers who want it all: a privileged location, shopping and dining options, and an impressive contemporary home with the quality guaranteed by La Manga Club Properties. The community offers spectacular views over the northern area of the Calblanque park," explains Manuel López Gilabert, Project Manager of La Manga Club Properties for Arum Group.
The total approximate investment for the project comes to 3.5 million Euros and will generate between 60 and 70 direct or indirect jobs. Once completed, La Manga Club Properties estimates that the complex will employ around 70 people, including the personnel in charge of the management and maintenance of the apartments and the employees of the commercial premises.
El Boulevard includes five modern tourism apartments with two or three bedrooms and plenty of outdoor space. Four of them are duplexes, while one is single-floor and adapted for people with reduced mobility. All the apartments all have two terraces facing north and south, as well as a private garden.
The two independent villas are single-floor dwellings with porches that can be used as gazebos or for relaxing outdoors. Each has three bedrooms and two bathrooms, one of them en suite, and a landscaped garden. In addition, there is a communal garden and pool.
The community is located right next to The Racquets Club, a tennis center with 28 tennis and paddle courts and a gym, which has recently renovated its facilities.
Shopping near home
The main novelty of this development is the inclusion of a modern and elegant two-storey commercial center with 16 units distributed over two spaces: 14 are located on the ground floor, with surface areas of between 70 m2 and 90 m2, and 2 are on the first floor and are suitable for dining establishments. Each of the latter has a total surface area of 156 m2 and a private-use outdoor terrace of approximately 300 m2.
This commercial center aims to be a meeting point for those who want to window shop or have a chat over a coffee just a stone's throw from home.
Like all La Manga Club Properties developments, owners and guests will have access to the services and facilities of the whole complex, including its three golf courses, 28 tennis courts, 8 football fields, a beach cove with private access, restaurants, medical staff, a pharmacy, 24-hour security, maintenance and parking.
"With each new community, we have diversified our model to adapt to the demands of our clients," explains Manuel López. "Those who prefer independent villas and private pools will delight in Las Acacias. Buyers looking for exclusive-use apartments with large terraces and sea views will find their ideal property in Las Orquídeas. And now, those who want a commercial space nearby, a furnished apartment to let for part of the year or an independent villa, have El Boulevard."