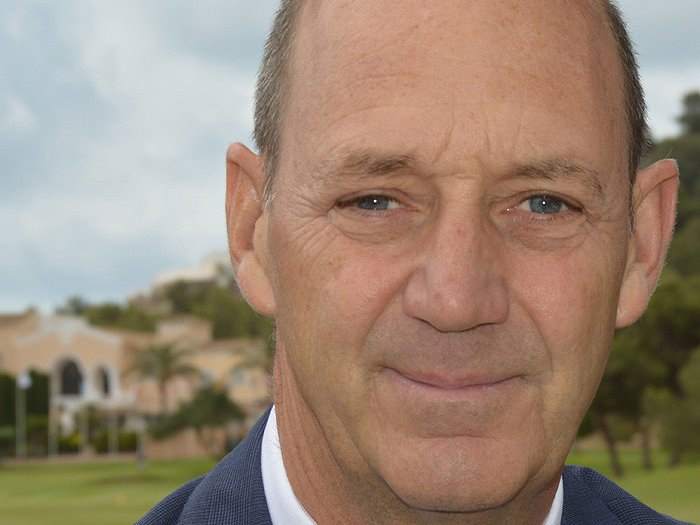 Having previously been the General Manager of the Hyatt Regency La Manga Club, you have a unique perspective on the resort. Now that you've moved from the hotel and restaurant space into a much broader area of responsibility, how do you view the evolution of La Manga Club and the La Manga Club properties community?
From 1996 to 2007, while I was General Manager of the Hyatt Regency La Manga Club, there was a lot of money in the market, and our clients were less preoccupied with prices than they currently are. Afterwards, during the crisis suffered throughout Spain, La Manga Club survived thanks to a large number of loyal repeat visitors, the majority British, whom the resort took care to retain by sacrificing rates. Since the end of the economic crisis, La Manga Club has evolved, diversifying our clients, the sales channels, and our products. Today it continues to be an international reference in the sector and employs almost 500 professionals.
Precisely because of its long trajectory, La Manga Club is a very visible presence in the sector. What challenges do you see for such a consolidated destination in the long and medium term?
I like to set challenges for myself day by day so that we succeed in adapting ourselves to our clients by offering them unique experiences. Our quality services and magnificent facilities will help assure that anyone who visits La Manga Club will fall in love with the resort and want to come back, or even buy a residence here. Among my objectives are the improvement of the infrastructure and the quality standards of the resort, training the staff so that we offer service that is truly 5-star. In a tourism sector that changes so much, it's also important to diversity our markets to attract different types of clients. The opening of the Corvera Airport will be a help in this, as we hope to receive visitors from new countries and give La Manga Club a strong profile in those countries.
For many, La Manga Club is synonymous with "sport resort". Will this continue to be a fundamental part of its growth?
Sport has been our main activity since the founding of La Manga Club. The athletic spirit of the complex, always accompanied by its excellent and renowned facilities, has given, and will continue to give sport an incredibly important role in the resort, which is recognized as one of the best sport and leisure complexes in Europe. In addition to the top-level golf courses, there are the 8 football pitches that bring in teams from all over Europe, and 9 international tournaments that are carried out here each year on our 28 Tennis Centre courts. And our sport offer has even expanded in the last few years, especially in disciplines like cricket and rugby.
Are there other ideas in the works for diversifying the offer?
We have to keep evolving in line with the market and adapt ourselves to what our clients want. They come, not just individually, but in groups, and they're no longer just looking for a "sun and sand" experience or to play sport, but for the multiproduct experience that we offer at La Manga Club. The direction of loyalty has changed: now it's the resort that should be loyal to the client and evolve, offering unique experiences that surpass their expectations.
In terms of the product, we have added the football, tennis, cricket, and rugby markets to that of golf, as well as our very complete offer for holiday tourism and MICE or congress and meeting tourism. We are also privileged to receive visitors now from more countries that ever before, with increasing numbers from Scandinavia, Germany, and France.
Thanks to your experience in an international hotel company with the volume of guests and prestige of Hyatt, you've worked in different places like Chicago, Acapulco, Buenos Aires, and Hong Kong. How do you think this international vision has benefitted your work at La Manga Club and will help you in this new era?
My international experience and perspective have helped me to understand the client better, to understand what stimulates and motivates him or her, and that is key in successfully designing experiences with which each can identify and that still reflect our values. Clients want to discover new things in every destination, and enjoy excellent service and quality products, and this has to be translated into unforgettable experiences that meet their expectations and ensure their satisfaction and loyalty.
Recently there have been a number of strategic moves made with an eye to raising standards throughout the resort, not only in the sport facilities but also in services. How would you like to see La Manga Club evolve over the coming 5 years?
The products offered, the location, the accessibility, the climate, and the distribution channels of La Manga Club play a very important role. The great variety and offer among our facilities and services make us unique, as there are very few complexes in Europe that have the same characteristics, and even fewer that are under one operating umbrella. If to that we add our repositioning, adapting ourselves to new trends in sport like cricket and rugby, or to new markets like France and Scandinavia, without losing our offer of unique experiences and true 5-star service, La Manga Club will remain among the best sport and leisure resorts in Europe.
What role does the residential community and its new luxury products play in the future of La Manga Club?
Currently there are 2,300 residences at La Manga Club occupied by inhabitants and owners that enjoy a particular and very different kind of lifestyle in which tranquillity, privacy and 24-hour security, and elegance are always present and make the resort a true paradise in which to live.
The new real estate projects represent the company's intention to continue offering exclusive services in a privileged environment to clients who, once they have come to know La Manga Club, want to invest in property and become part of this great family.