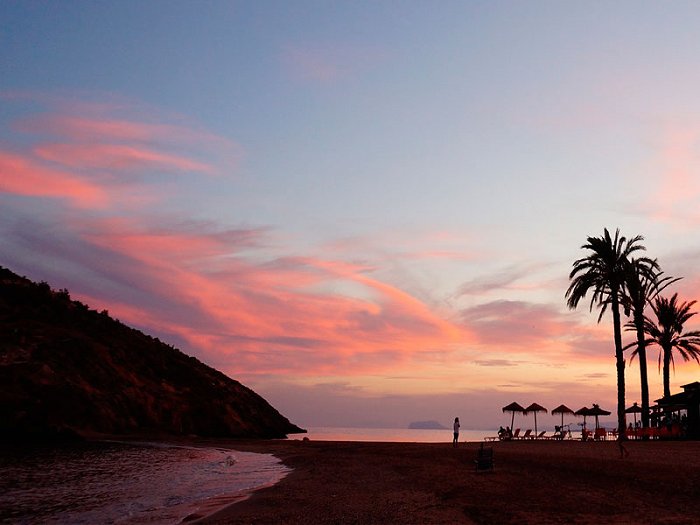 Cliffs, white-sand beaches and picturesque fishing villages… If you own a home at La Manga Club, you already know the charms of the wonderful Costa Cálida, a true paradise on Earth. Its world-famous beaches have crystal-clear waters where you can bathe between two seas and enjoy a spectacular underwater world, mild temperatures throughout the year and a picture-perfect landscape. Today we'll visit some of the heavenly coastal spots that are worth a trip and entice you to leave behind La Manga Club's amenities and services for a day to enjoy these wild natural jewels. Get ready to relax and disconnect!
Calblanque beach
If you prefer to stay away from the hustle and bustle, Playa del Calblanque is one of the great treasures of Murcia you can't miss. Located in a unique enclave, in the Calblanque Park Protected Natural Reserve, this is a true Mediterranean paradise just 10 km from your apartment at La Manga Club. It's flawlessly preserved as a virgin beach and its landscape is truly spectacular: 300 meters of fine, golden sand, translucent blue waters, fossilized dunes, solitary coves, mountainous massifs and rich vegetation populated by gulls and black-crowned plovers.
You're guaranteed to enjoy a relaxing day, because access is controlled in the summer months and seating is limited. Don't worry about the car: private vehicles are prohibited from June to September and the beach can be reached via public transport.
Get ready to walk among the dunes, visit beautiful caves, and explore the trails to the rest of the park's coves, including Cala del Barco and Cala de las Mulas, where if you are lucky you can bathe alone in the late afternoon.
Cala Cortina
If you are traveling with children and you are looking for a cove far from the urban center but with all the services required to spend a day with your family, Cala Cortina is the perfect choice.
Barely 200 meters long and 18 wide, located in the Cartagena area in the middle of the Mediterranean Sea and distinguished in 2020 with a "Q" for quality tourism, it is a picturesque cove with clear, calm waters and golden sand. It has a children's area, a promenade where you can stroll after breakfast or at sunset and a wide range of services, such as restaurants, toilets and an attractive area dedicated exclusively to picnics. It's no surprise, then, that it is one of the most beloved coves of the inhabitants of Cartagena.
To get there, skirt the port of Cartagena through the Santa Lucía neighborhood and go through a small tunnel. If you go by car, the lookout point that serves as parking will give you great views of the cove and the Mediterranean Sea. Take time to contemplate the landscape in all its splendor!
Bolnuevo beach
If you go to Mazarrón, one of the main tourist centers in the Region of Murcia, you will find one a sandy area with a lovely landscape. The semi-urban Bolnuevo beach is more than a kilometer long, and upon arrival you'll feel like you've stepped onto another planet. Its picturesque and whimsical rock formations facing the sea were created over millennia through wind and water erosion, and, in fact, the Bolnuevo Erosions have been declared a Natural Heritage Asset of the Region of Murcia thanks to their beauty, uniformity, and uniqueness.
Clean, tranquil waters, a large golden sand area, and a wide range of services such as toilets, showers, parking and beach kiosks add to its appeal.
La Azohía beach
Located in a beautiful corner of the Mazarrón Gulf, protected by Cabo Tiñoso and presided over by the Torre de Santa Elena, La Azohía beach is a favorite of divers and enthusiasts of other water sports, thanks to its crystal-clear waters, virgin seabed and tranquil ambiance. In addition to its great natural and scenic appeal, the fishing town in which it is located has the best seafaring tradition in the Mediterranean, and you can dive right in by sampling the food typical of the area in any of the restaurants on the seafront. To complete your day, wait for the magical sunset and enjoy the charms of the sea.
La Carolina beach
Your Costa Cálida beach tour would not be complete without a visit to La Carolina, one of Murcia's most emblematic beaches. On the border with Almería, about 5 kilometers south of Águilas and an hour's drive from your property at La Manga Club, it forms part of the protected area known as Cuatro Calas, considered the last virgin refuge in the Mediterranean. Its rich biodiversity, fine and abundant sand, gentle slope into the sea, and volcanic landscape make it a unique destination where the cares of the world slip away.
While you relax among its dunes and transparent waters, you can also enjoy an unbeatable view of the town and the promontory of the Castle.
Los Cocedores beach
Despite being in the province of Almería, its location right on the border with the Murcia Region makes it worth the few extra kilometers of car travel. The seductive charms of Los Cocedores beach can be experienced first-hand in the municipality of Pulpí. Caribbean Islands don't have a thing on this beach's 150 meters of golden sand and natural crescent-shaped pool (perfect for small children) and striking cliffs. Like La Carolina beach, it belongs to the protected landscape of the Cuatro Calas, so that alone should be reason enough to include it in your route.
This has been but a selection of the wonderful beaches you can visit close to your home at La Manga Club, but there are even more undisturbed and hidden corners of the Costa Cálida to discover. Let your adventurous spirit reign and go exploring!