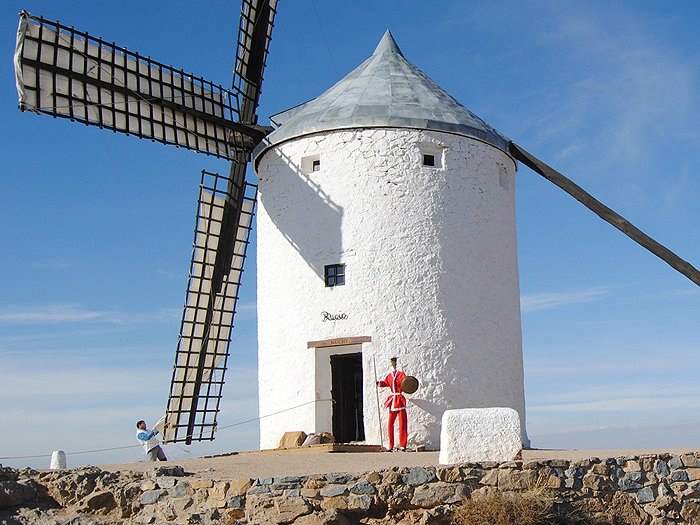 We know that your decision to buy a property in a golf resort like La Manga Club affords you the luxury of enjoying spectacular sport facilities, magnificent views and a beautiful natural environment every day. But those aren't the only attractions of our privileged location. As we like to remind the residents of our magnificent complex, they are surrounded by an area of extraordinary cultural heritage just waiting to be discovered.
Today, we invite you to learn about an area replete with nature, history, leisure and gastronomy via two day trips from La Manga Club. Take notes and start planning for your next free day!
Route among the Windmills of Torre-Pacheco
For centuries windmills have been the identifying feature of the charming municipality of Torre-Pacheco, caressing the horizon with their imposing blades. We're talking about structures which the inhabitants of this township hold very dear; so much so that the last Sunday of April and September they pay them homage with the traditional Festival and Romería of the Windmills.
Owing to the particular climate of Murcia and to the fact that for centuries they drove the local and regional economy, windmills are a reference point in the Murcian geography. Today there are 14 left, four of which remain whole while the other ten have been rendered bladeless, with only the tower structure left to enjoy.
Interested in visiting them and taking a trip back in time? If you've decided to buy an apartment at La Manga Club or you already own one of our magnificent villas, this route is one you can't miss. It's just 30km by car from our golf resort.
When you arrive in the middle of the city, you'll find the first of the windmills, "Tío Pacorro" or the "Virgin's Windmill," in the Manuel Mossotti Plaza. The route begins there and continues along the road to Roldán, to the northeast. A bit more than 1km from there is the Pasico Windmill, so called because of its location in the paraje of the same name. Here, if you enjoy the study of arts and culture, you can go see a scene from Quijote and eat the traditional gachas migas, a dish characteristic of the area. Try to save room for more photos in your camera because if you follow the same road for another kilometre and a half, you'll be able to admire the Hortichuelaque Windmill in all its splendour.
If you want to learn more about the most ancient traditions of Torre-Pacheco, give yourself ample planning time and pick an afternoon to leave the comforts of La Manga Club behind and lose yourself in this fascinating experience full of history and nostalgia. There are local tourism guides that have these routes all planned out, so if you want to make a reservation don't forget to pass though the Tourism Office or visit the official website: http://www.torrepacheco.es/.
Bullas Wine Route
Enotourism is one of the sectors seeing rapid growth in the Region of Murcia, whose 35,000 hectares offer wines for every palate: red, rosés, and whites. It's not for nothing that the region possesses three D.O.s and certificates from Acevin (the Spanish Association of Wine Cities).
If you decided to buy an apartment in La Manga Club, surely you know that our restaurants offer a chance to try some of the best wines on the market. Still, it's always gratifying to discover new pleasures, and what better than wine routes to give you the chance to try new flavours, jump into local culture, admire the natural landscapes and visit bodegas and restaurants? As we've reported before, three of these are certified by the Spanish Association of Wine Routes: the Jumilla Wine Route, the Yecla Wine Route and the Bullas Wine Route.
Thus it is that the second excursion we recommend is an enotourism excursion packed with charm about 110km from our golf resort: the Bullas Wine Route, an area where the urban centre has maintained more than 200 traditional bodegas that were built between the XVIII and XIX centuries. You can begin with a visit to the Wine Museum and enjoy one of their wine tastings. Continuing in the old part of town, enter into the numerous neoclassical and modernist buildings. And at lunchtime, don't forget to ask for one of the area's traditional dishes like ajoharina or "el empedrao" (rice with beans, peppers and codfish) and finish up with some delicious french toast. Your next stop could be the Salto del Usero, an impressive natural area, or the Aceniche Valley if you want to enjoy a unique experience and walk among beautiful vineyards.
What's more, at the end of September they celebrate the Bullas Wine Festival, so mark your calendar if you want to take advantage and make sure you're in your wonderful La Manga Club home during these dates. If you want to know more about enotourism in the Region of Murcia, visit the website and reserve a space to visit your favorite bodegas and routes.