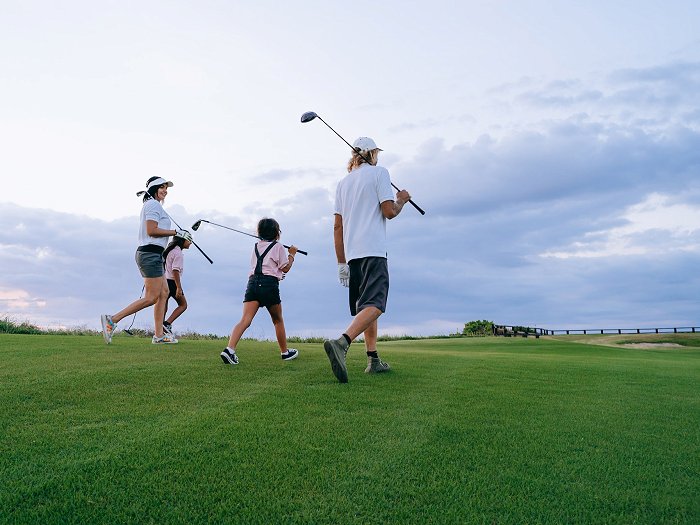 Planning a day with children can be complicated, but if you want to back away from the sedentary screen lifestyle, golf with the family is a great option. Often, the difficulty of finding the right program for joint leisure activities is pleasing both young and old. Many activities supposedly designed for children's entertainment don't meet their levels of physical activity, are held in enclosed spaces, are incredibly costly, or are too boring for their parents to stand.
But spending a day together in one of the best golf resorts in Europe is guaranteed fun. And, lest you forget, in their early years, children learn largely by imitation. It's crucial to model the behavior you want your children to display. If you want them to stay active, develop a healthy attitude towards competition, and value being in contact with nature, you've got to lead by example. And we don't have to tell you that golf ticks all these boxes. Can you think of any better venue than one of the three La Manga Club golf courses?
Benefits of playing golf with the family
Walking several kilometers together through a golf course in Spain on a sunny morning with a cool breeze, learning how to use different clubs, demonstrating the proper technique for a good swing, and discovering new talents: these are unforgettable moments for everyone. The reward of a lovely post-round meal in one of La Manga Club's many restaurants is another. And just like that, you've already done everything you need to for your loved ones. You've strengthened your family ties and emotional bonds by having fun together. You've worked on fundamental values like respect for nature, learning to win (and lose!), and discipline. And you've demonstrated the satisfaction that comes with having healthy habits and an active life.
The best facilities for families
No matter what level golfers you have in the family – whether you've never stepped onto a course or you're ready for the Masters – La Manga Club is the perfect venue. If everyone's set and ready to tee off, you have your choice of our three 18-hole courses or the 9-hole Pitch & Putt. But if you want support in improving your swing, practice on your short game, or anything else you can think of, the La Manga Club Golf Academy and Practice Facilities are here for you.
There are individual or group lessons available in three languages, two state-of-the-art teaching rooms, four separate rooms for groups and a driving range with 45 putting greens and other facilities. From our five-day Total Golf Experience to our 90-minute family class, our Junior Academy or private lessons, you'll find what you need.
Fun, nature, healthy habits, learning, and solid values: the benefits of practicing golf with the family are legion. Whether you've made your home on the golf course or just enjoy the game on occasional weekends, look around your house and see who else you want to share this magical experience with.