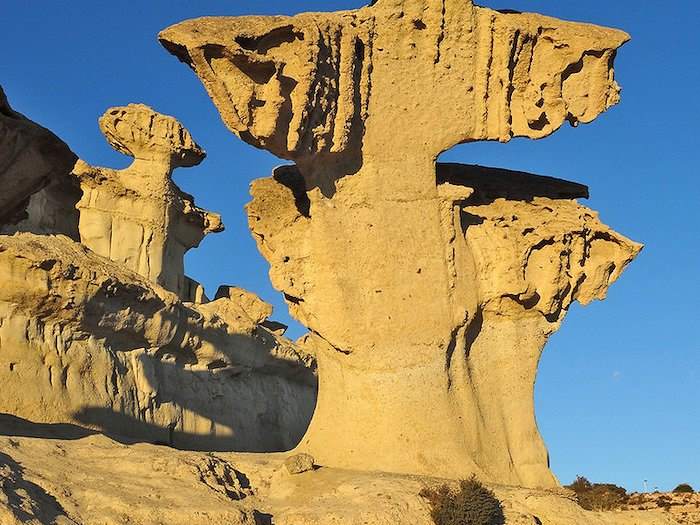 It's probable that the privileged location of our leisure and golf resort was one of the chief motivations that led you to buy a La Manga Club property. A dream climate, incredible landscapes, first-class services and facilities, and the ability to practice any kind of sport outdoors, year-round, are attractions that are hard to beat. But add to that the rich offer of nearby excursions: a day away from La Manga Club gives you access to the best beaches on the Mediterranean coast and an area with unbelievable natural wealth. Today we propose a tempting excursion to the Ciudad Encantada de Bolnuevo (the Enchanted City of Bolnuevo), in Mazarrón.
Under an hour by car and some 70 km from your La Manga Club property is this tiny town of less than 1000 inhabitants that forms part of the municipality of Mazarrón. Known as the Enchanted City, Bolnuevo is one of the main symbols of the region, and known for its spectacular geological landscape.
At the sea's edge, from its spectacular beach, you can see sandstone formations, known as the Gredas, made from a clay-like substance composed of silica and aluminium. The impact of the air, accompanied by particles of sand and water, have shaped these Gredas into an incredibly beautiful landscape whose orography is almost lunar.
Unusual profiles and mushroom-like rock formations several meters high bring many curious visitors to the "enchanted landscape of Bolnuevo", which has also formed the backdrop for many artistic celebrations.
The Gredas are not only appreciated for their exotic shapes, but also for their priceless geological testimony. This sandstone includes carbonated boulders in a blue-green colour and is home to various macrofauna such as molluscs and crustaceans. Students are enamoured of the site, too, thanks to the abundant microfossils that date from the Zanclean (Early Pliocene era; some 4 million years ago), as well as many Lamelibranch fossils.
As if its geological attractions weren't enough, the beach of Bolnuevo has another interesting attraction, especially if you are a lover of ornithology. In front of the bay that encompasses the various calas of the Mazarrón coast, you can see the Isla de los Lobos (Wolf Island), a protected place categorized as a Special Bird Protection Zone (ZEPA), whose access is restricted in order to preserve the natural habitat of its bird species.
As you see, when you leave your property at La Manga Club you have the opportunity to enjoy more than sun and white-sand beaches with crystal-clear waters. The region of Murcia also has many cultural, historical, biological and geological wonders well worth learning about.
So if you have the luck to enjoy a few leisure days in one of the most incredible resorts on the Mediterranean coast, make sure you set aside a day to learn about our spectacular surroundings. Finding the perfect balance between relaxing and enjoying the excellent services and facilities of La Manga Club and learning the secrets of one of the most attractive regions of the Spanish Mediterranean might be the secret to happiness. Try it and judge for yourself!