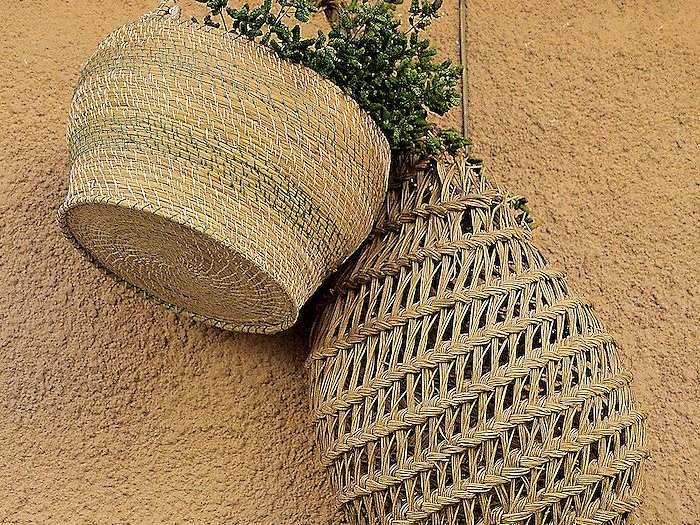 As residents of our La Manga Club apartments are well aware, Murcia is bursting at the seams with traditional artisanal products that include glass, pottery, embroidery, internationally recognised cuisine, and wines of the region. Among these manifold goods are also the various products made from esparto grass, material used since prehistoric times on the Iberian Peninsula to make baskets, water jugs, shoes, and more. It is quintessentially Mediterranean as well as being natural and versatile: from outdoor sofas to lampshades, it goes with everything.
Esparto has long been part of Murcian history. Due to the dry climate and arid landscapes typical of southeastern Spain, herbaceous and shrubby plants, such as esparto grass, grow in abundance. Their manufacture has been an important part of the daily life of Murcians since time immemorial. Murcia is the top producer among the other local provinces with an esparto industry: Albacete, Granada and Almería. And while the preparation and weaving of esparto is carried out today mainly in large industrial factories, small artisans continue to follow the tradition and shops selling esparto products are dotted throughout the region.
In fact, due to its eco-friendliness and its generation of only biodegradable residues, esparto products and handicrafts are currently undergoing something of a renaissance. Popular products range from lamps, baskets, shopping bags and even blinds that will keep the sun out of your La Manga Club apartment but allow the breeze in. The product's easy adaptation to current trends makes for warm and comfortable spaces inside and outside the house.
Aside from decorative uses, perhaps the most well-known use of esparto fiber is the for iconic Spanish shoe, the espadrille. The very name "espadrille" comes from the word "esparto", used to make its flexible sole. There are numerous styles available, but perhaps the most popular are the informal flats worn in the hottest months and highly recommended when pottering about your La Manga Club property.
Practical as footwear and used as such since the 13th century, esparto has been used for other everyday purposes throughout the ages too. These include as a material for fashioning carriers to collect the harvest, specialised baskets to bring in the olives, ropes for cheese production and also, much as today, as carpets or doormats. They were often used to protect the corridor of the house, which could be easily damaged by the horses entering the stables.
Nowadays, esparto enjoys a prized place in the home as a decorative material that combines elegance and natural beauty as well as being resistant and hypoallergenic. There is a vast array of esparto products to choose from, but no matter whether you pick lampshades or mats, storage baskets or shoes, they're sure to look wonderfully authentic in your La Manga Club apartment.