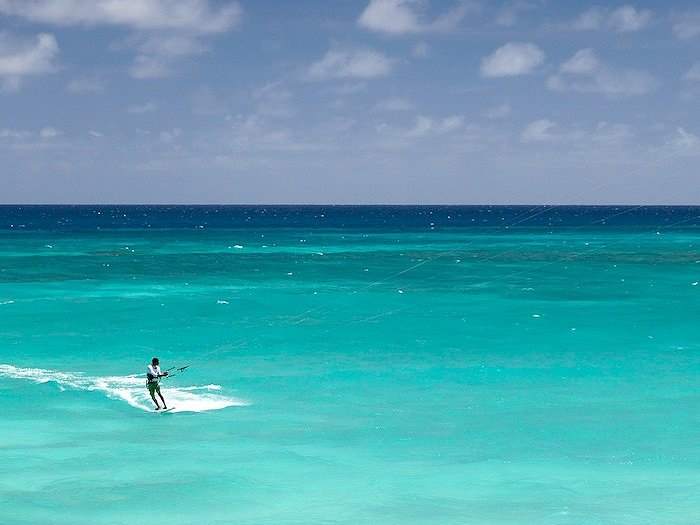 If you've chosen to buy a La Manga Club property, surely at some point you factored in the benefits of living in a resort with professional-quality athletic facilities and privileged surroundings that let you partake in outdoor activities year-round. The warm and sunny Mediterranean climate ensures that every year thousands of water sport aficionados flock to the Murcian coast to enjoy its heavenly beaches. The options for leisure sports, family activities and rural hiking, as well as enjoying incredible beaches and coves, are infinite; and the conditions for wind sports like sailing, windsurfing, and kitesurfing are ideal.
This latter sport, kitesurfing, is enjoying a real boom in La Manga del Mar Menor these days, for a number of reasons. The main one is that the dual requirements of wind and wave domination have made it a star sport for lovers of adventure in general and extreme water sports in particular. This is a type of kiteboarding that mixes more traditional activities like surfing, windsurfing, and snowboarding, with which it shares the commonality of balancing on a board or skis, but in this case on water, and using wind force with a kite as the propelling agent.
Though it seems like an extreme activity, it's actually relatively simple. And with just a few hours of practice you can already begin enjoying a sport that ends up being both exciting and gratifying. That's why, if you have a La Manga Club property and you enjoy the privilege of being just a few kilometres from the best beaches on the Mediterranean coast, you must try it.
Because of its particular characteristics, the Mar Menor is one of the best places in the world to practice this type of sport. Not only does its climate allow you to enjoy outdoor activity from April to November, but also because it has a unique orography. Because it's a laguna, its waters heat up more rapidly than the Mediterranean, and its 170 square kilometres and maximum depth of 7 metres make it a perfect place to learn the basic techniques in order to enjoy kitesurfing after a few lessons.
All down the coast you can find aquatic training centres with qualified instructors who can give you the fundamentals required to begin practicing kitesurfing. You can head, for example, to Calblanque beach, located in the natural park just a few minutes from your residence at La Manga Club, which is one of the most popular. There, you'll find the ideal conditions to take your first steps into the world of kitesurfing, though you'll have to be patient and first learn the fundamentals on dry ground. Controlling a kite on land is essential to the practice of kitesurfing. If you can learn to control the kite off the water, it will be far easier and more instinctive once you're navigating the waves. Don't fret: in a short time you'll be on the water and quickly falling in love with this thrilling activity.
One warning: no matter how much you progress and learn, never go out kitesurfing alone! Always bring a friend or partner because you never know when the wind might change and stir up trouble. It's essential to study water and wind conditions, as in all water sports, and you must be prudent and not venture out if they are less than ideal. If you work with an instructor, he or she will teach you how to recognize when it's dangerous to enter the sea. Likewise, you should learn all the universal signs used in water sports, as well as the rules of kitesurfing. This way, you'll be able to communicate with your friends and request help if you need it.
So now you know your La Manga Club property gives you access to one of the best areas on the planet for kitesurfing, get out there and give it a go! Not everyone can enjoy this ideal environment near their home, and this is a major reason you should take advantage. What's more, with the excellent services that you'll find in our exclusive leisure resort, you can recover from your efforts by lounging on one of our magnificent terraces or with a restorative treatment in our Wellness Centre. We're sure you'll figure out which of the thousand ways to relax best fits you after an exciting day of one of the best new water sports in the world.