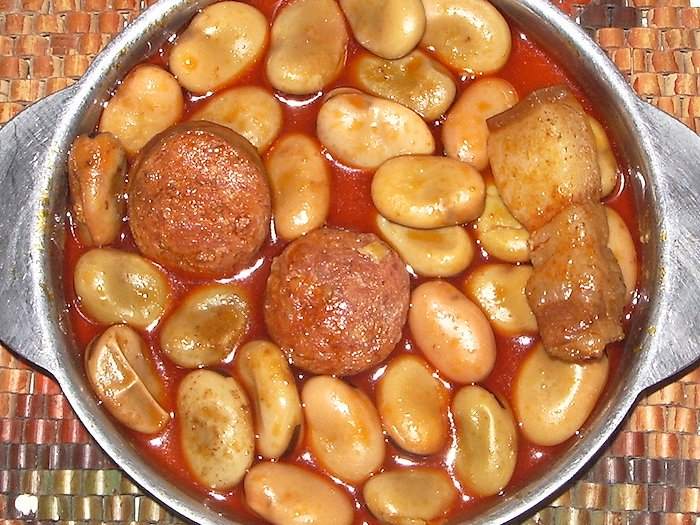 The climate that we enjoy at our golf resort is enviable but, come winter, we still love the energy that warm dishes confer. We search for tasty recipes calling for top-quality fare that delights our senses with comforting aromas and nutritious ingredients. If you have a property at La Manga Club, today we invite you to discover michirones, a typical Murcian dish that smells and tastes of tradition. Give it a try and serve it in a classic terra cotta dish that will let you share the warmth of your hearth with family and friends.
To talk about michirones is to talk about a purely Murcian cuisine, a dish that is as simple to prepare as it is delicious. Typical especially of Campo de Cartagena and the "Huerta" of Murcia, it's so popular that you can usually find it served in the bars and restaurants in these areas. Because it is made from ingredients that can keep a long time, it began to have widespread appeal among the rural residents in the region, as well as in parts of Alicante and Almería, in seasons when fresh ingredients were lacking. Today, however, the dish is no longer only associated with rural areas, and it has a special place in many family celebrations like baptisms and communions.
Michirones are always served warm, preferably in a terra cotta dish to preserve their traditional character and flavour, though using a pressure cooker to make them reduces cooking time. Among the main ingredients are dry lima beans, ham bones, chorizo, and bacon, as well as the spice of chili or cayenne pepper. The dish is perfect to consume on colder days at your property at La Manga Club in our golf resort, when you want to gather around a table and take in the warmth of a truly delicious stew. In Campo de Cartagena, they add potatoes as well, giving the michirones an even more substantial base.
Ingredients to serve four
1 kg of dry lima beans
1 ham bone
2 small chorizos
100 g of pancetta
1 bulb of garlic
1 bay leaf
1 tsp of sweet paprika
Chilis, ground pepper, and salt
Preparation
First, the lima beans must be soaked for at least 24 hours, with at least one change of water, to allow them to soften and cook faster. Once this has been done, cook them in the pressure cooker for 15 minutes with the bone, the chilis and bay leaf. Then, on low heat, and with the pot uncovered, combine the rest of the ingredients: the chorizos cut into slices, the pancetta, salt and pepper to taste, the garlic, and the paprika. If you choose to cook in a traditional terra cotta dish, the preparation can take more than an hour.
You can eat the michirones when all the ingredients are tender. When you serve it, be sure that the dish has enough liquid remaining to enjoy it with good traditional bread. And if you add a nice local wine, like a Jumilla, to the dish, you'll have the perfect recipe for your golf resort property. So get to the nearest market and pick up all the ingredients you'll need to make this simple and typical Murcian dish that's packed full of flavour.