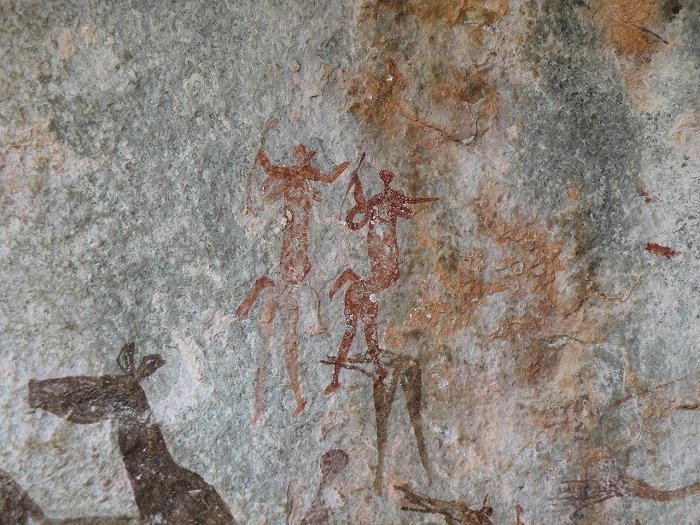 If you are lucky enough to have a house at La Manga Club, you already know our golf resort has first-class facilities and services and is the perfect place to do sport 24/7, or relax and enjoy countless leisure options. But its location is also unique, featuring a wealth of landscapes and treasures of immeasurable cultural value. You've probably enjoyed a getaway to the wonderful beaches on the Murcian coast, but perhaps you haven't yet explored the mountain ranges and plateaus of the region. These are areas not only of great environmental diversity, but also filled with art that dates back thousands of years.
Today we propose an attractive excursion just a couple of hours from your apartment at La Manga Club that will give you a wealth of information about your surroundings: a tour of the cave art of the Region of Murcia. The area holds more than 120 shelters and caves considered "Assets of Cultural Interest", with some catalogued as World Heritage sites by UNESCO. From close up, these places of great scenic beauty will allow you to observe ancient wonders that will transport you back to the time of our ancestors. Ready to don your explorer's backpack?
Mount Arabí in Yecla: 10,000-year-old paintings
About 20 kilometers from Yecla, approximately 2 hours by car from your residence at La Manga Club, is Monte Arabí, a magical prehistoric, natural and archaeological enclave characterized by majestic rock formations with large rounded blocks, hollows, caves, shelters and huge surfaces of honeycombs or alveoli that hide real legends.
Here you'll find one of the most important collections of cave paintings in the Mediterranean area of the Iberian Peninsula. It was declared a World Heritage Site by UNESCO in 1998 and has been included in the Cultural Itinerary of the Council of Europe's "Prehistoric Cave Art Routes". This group is made up of three "shelters": the Midday Shelter (Cueva del Mediodía), with representations of schematic painting in red, and Cantos de la Visera I and II, which include naturalistic and abstract figures painted on stone by prehistoric tribes dating back some 10,000 years.
In the Midday Shelter you can see cave paintings featuring a schematic style that represents human figures primarily in the form of a "T" or a "Y"; zoomorphic figures in which quadrupeds predominate; geometric motifs; and images of a religious character. The Abrigo Cantos de la Visera I, displays 40 pictorial motifs representing herbivorous animals such as horses, goats and bovines. And the Abrigo Cantos de la Visera II, offers more than 70 representations, among which bulls, deer, horses, goats and cranes stand out, but are accompanied by other sketches of serpentine and pointed figures. This latter group has been key for archaeologists in defining a new "linear-geometric" style, which was developed before the classic Levantine, in the last moments of the Paleolithic period.
Keep in mind that visiting the paintings of Monte Arabí can only be done with a guide and you must book at the Casa Municipal de la Cultura in Yecla at least 48 hours in advance. Plan your excursion well and don't miss out on the mysteries of Monte Arabí!
Jumilla and the Buen Aire Shelter: between the Levantine and the Schematic
Just an hour and a half drive from your house at La Manga Club is Jumilla, a town you might already know thanks to its great wine tradition, backed by more than 5,000 years of history. Here, about 800 meters above sea level on the mountain of Peñarubia, we can visit one of the most important of the five enclaves of the municipality, in which painted representations of prehistoric art have been preserved: the Shelter of the Good Air (El abrigo del Buen Aire).
The red cave paintings found in this shelter, which like those of Mount Arabí have been declared World Heritage Sites by UNESCO and form part of the Council of Europe's Cultural Itinerary, belong to two different stylistic groups.
The Levantine Art style (6000-3000 BC) is demonstrated in the majority of the representations, and corresponds to societies where the main economic source would have been hunting. In these paintings, human figures are represented in scenes of hunting, war or dance, and animals are also present (primarily cows, goat and deer). The schematic art style (5000-2000 BC) is also represented, however. This style, in which human and animal figures are represented much more abstractly with thick strokes, corresponds, according to researchers, to more sedentary peoples whose economy was based mainly on agriculture. The coexistence of both styles seen in the Abrigo del Buen Aire could confirm the prehistoric occupation of this habitat, with its occupants leaving a mark of their respective artistic manifestations.
If you want to visit these cave paintings, no guide or previous appointment is necessary and access is simple and free of charge. You need only climb a 100-meter slope that leads to the shelter, protected by a fence. It's a small effort that is certainly worth it!
Calar de la Santa: the bastion of cave art
We finish our route through the ancient wonders of Murcia with a visit to Calar de la Santa in Moratalla, the bastion of rock art on stone and the biggest concentration of examples in the region. Declared a World Heritage Site in 1998, and in 2015 a Place of Outstanding Universal Value (UNESCO), the cave paintings in Moratalla combine three styles: Levantine Naturalist Art, Schematic (Prehistoric), and Medieval (Historic).
Of the 65 shelters spread over the 965 square kilometers of Moratalla, only some of them can be visited in the district of Calar de la Santa: La Fuente del Sabuco (I and II) and La Cañaíca del Calar (I-IV).
The shelters of La Cañaíca del Calar deserve special attention, for their great number of representations of the Levantine style. They are of extraordinary beauty and are well-conserved. In the first shelter, the figures of a deer and an archer stand out, totally recognizable, including surprising colours and a great level of detail. Similarly, in the second shelter, we find one of the most complex panels of Schematic cave painting, composed by anthropomorphic figures, animals, groups of points and symbols.
To visit La Cañaíca del Calar, an appointment must be made at the tourist office in Moratalla for a guided tour. The guide will give you details about the techniques and materials used, the styles, possible interpretations, and will also invoke the past, explaining how nomadic societies lived and their transition into settled peoples.
Did you know about these jewels nestled close to your house at La Manga Club? Though you'll want for nothing within the resort, you cannot miss the opportunity to learn more about these spectacular surroundings and discover the history and secrets of one of the most attractive parts of the Mediterranean coast.