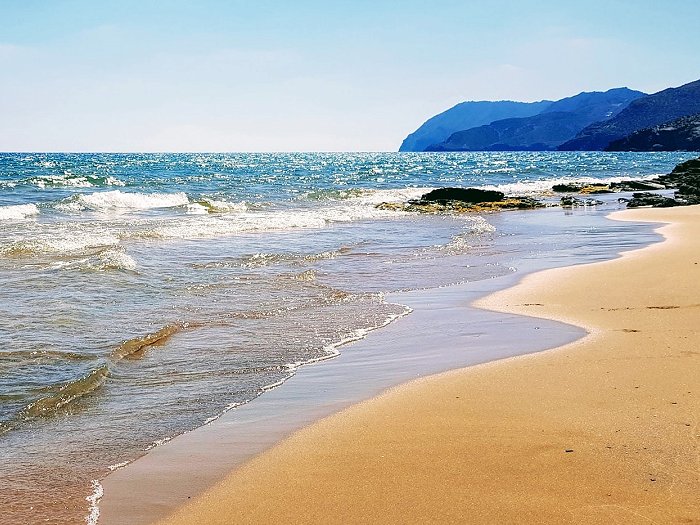 Calblanque Beach is one of Murcia's many hidden treasures. The regional park of the same name is a cornucopia of natural spaces just over ten kilometers from your property at La Manga Club that includes virgin beaches, hours of warm sun and placid waves, and an exuberant biodiversity that recalls the time before clocks existed. Here are a few tips for your first exploratory trip!
Exuberant biodiversity
Located between Cabo de Palos and Portmán, Calblanque Regional Park surrounds the eastern end of the coastline, comprising a wide variety of natural settings dotted with bushes, sandbanks, dunes, coves, cliffs and Aleppo pine. You'll find species like the Cartagena cypress or the Cartagena rock rose that together make this area a thriving green space to delight your senses of sight and smell.
The fauna is fascinating as well. The Rasall Salt Flats provide a comfortable ecosystem for aquatic birds like stilts, avocets, egrets, Kentish plovers and Audouin's gulls, among others. The endangered Aphanius iberus fish lives here, in addition to mammals like the stone marten and the badger; reptiles like the Montpellier snake, the Sierra Nevada lizard, and Bedriaga's skink; and other birds such as the Eurasian eagle-owl, Bonelli's eagle and the Peregrine falcon.
Virgin beaches
Just a short hop from La Manga del Mar Menor, Calbanque offers plenty of beach options, among which you're sure to find a favorite. You can enjoy the wide golden sand expanses of Playa Larga, a virgin landscape with no construction and a family-favorite destination for being the only beach with lifeguard service. There, adults and children alike can enjoy hiking, snorkeling, and surfing.
If family activities aren't the priority, you could try Playa Parreño, a nudist beach (though practicing is not obligatory!). It's a small cove nearly hidden between cliffs and, located farther from the car parks and bus stops than Playa Larga, is less crowded. Its fine sands and rocky landscape give it a sublime beauty.
If you don't really like sand but you do get enthusiastic about water sports, Cala Arturo is the best option. It is reached by a wooden walkway and all kinds of surfers (wind, body and especially kite) frequent it for practice in the ideal wave and wind conditions.
And the list doesn't end there: Cola de Caballo Beach, Cala Dorada, Negrete Beach… the bounty of coastal landscapes to explore never ceases to amaze us.
How to get there
The tremendous natural beauty of this place is protected by deliberate measures to safeguard it from human encroachment. Motor vehicle access to the park is regulated in summer, and we recommend that you visit the Murcia Natural website if you plan to go between April and October to get additional tips or advice you may need.
The richness of the landscape, the fauna and the flora make the beaches of Calblanque and this whole corner of the Murcian coast a truly worthwhile destination. Get away from your daily stresses and immerse yourself in these marine and mountain paradises just twenty minutes by car from your property at La Manga Club. In this oasis of serenity, you'll find countless beaches for all preferences and ages.