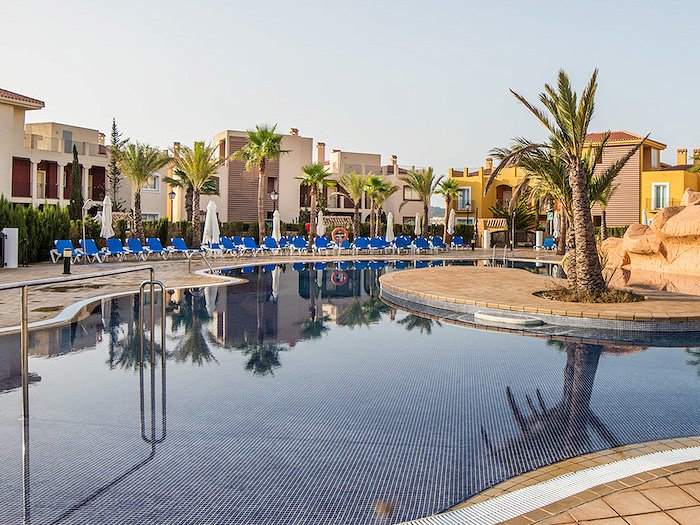 At the La Manga Club Properties Office, we know that there are a lot of ways to invest in the real estate market, and that's why today we want to talk about the concept of buy-to-let. This is a profitable and sustainable formula that will also have positive effects on your leisure time. As an alternative to the traditional real estate sales market, buy-to-let in resorts not only gives you an investment in a tourism apartment but also holidays in one of the best sport and leisure resorts in Europe.
Also known as buy-to-rent, this formula consists of buying a property zoned for tourism in order to rent it out and occupy it yourself for an agreed-upon period of time per year. And if to this concept you add the possibility of buying this property in a resort, the benefits multiply: besides enjoying your home in an exceptional location, it will generate income during the rest of the year, and all without headaches for you.
This constitutes a fundamental difference with respect to the classic procedure of buying for resale or buying to rent in areas with limited numbers of tourism licences available. And then there's the consideration of how to operate professionally. Buy-to-let properties in resorts offer more security, and this is backed up by the available data. According to specialized analysts on the well known real estate portal Fotocasa, the annual income derived from this type of real estate product is between 5 and 10%, and Murcia, the location of the Las Lomas Villas tourism apartments at La Manga Club, is the fourth most profitable region in Spain.
It's a good sign of the success of buy-to-let investments that 20% of real estate investors are dedicated to tourism rental. And it makes sense. Spain is a first-class destination where the majority of the country allows visitors to enjoy good weather almost the entire year, something we well know at La Manga Club. What's more, if you're looking beyond a simple beach destination, the country offers a wealth of cultural, architectural and leisure options, as we can see first-hand in the historical center of Cartagena, located very close to our golf resort.
Though the profitability of buy-to-let investments is guaranteed, if you're not well-supported, it's possible to make some mistakes. Many Spanish cities are now beginning to regulate the holiday rental sector, and it's necessary to have a tourism license from the city government to be able to let your property. Carrying out this activity without a license can incur fines of up to €10,000. The tourism apartments at La Manga Club are expressly conceived for tourism rental, and they operate completely within the legal norms. In contrast to other rental schemes, where the buyer doesn't live in his apartment and rents it out occasionally, these apartments are created expressly for tourism rental, an iron-clad requirement in order to comply with the zoning laws that regulate the sector. What's more, Las Lomas is an example of sustainable rental that's balanced perfectly with the vital residential community that lives in La Manga Club the whole year. This in sharp contrast with the center of some cities that have fallen to unregulated tourism practices and an avalanche of tourism. Here we see a residential community that is full of life, safe, and dynamic, and that exists in perfect harmony with the temporary residents in the areas strategically dedicated to tourism rental.
And for the added pleasure of our owners, if a buyer wants to come to the resort on days when his property has already been rented out, La Manga Club can offer a studio for up to 6 days per month. You never have to worry about not being able to enjoy your property yourself.
Another important issue is the maintenance of the property and the management associated with tourism rentals (bookings, check-in and check-out, housekeeping, etc.). These tasks require time and physical presence near the apartment, meaning that in other locations, foreign owners who have invested in Spain have to hire external contractors, companies that aren't always professional, nor do they offer the required quality level. At La Manga Club, however, this is never a problem in our community of tourism apartments, nor do you have to worry, because we have an in-house staff dedicated to the management of the apartments, as well as gardening and security services. You only need to collect your income and come enjoy your apartment from time to time. Leave the little daily problems to us and you'll see how your income flows without you lifting a finger.
Our apartments and studios at Las Lomas Village, beginning at €86,000, are elegantly decorated and equipped with everything necessary for a stay that begins at a moment's notice. The non-studio apartments come in 1-, 2-, and 3-bedroom configurations, and visitors can take advantage of all of La Manga Club's many services during their stay, including the three golf courses, the Wellness Centre (named Spain's best resort spa in 2017), the Tennis Centre (that hosts professional-level international competitions), additional professional sport facilities, and its more than 15 bars and restaurants. And you and your family will be able to enjoy them, too.
And just in case you still have doubts, perhaps we should mention the special financing conditions available and the guaranteed returns of up to 6% for the first four years of ownership. What more could you ask for?