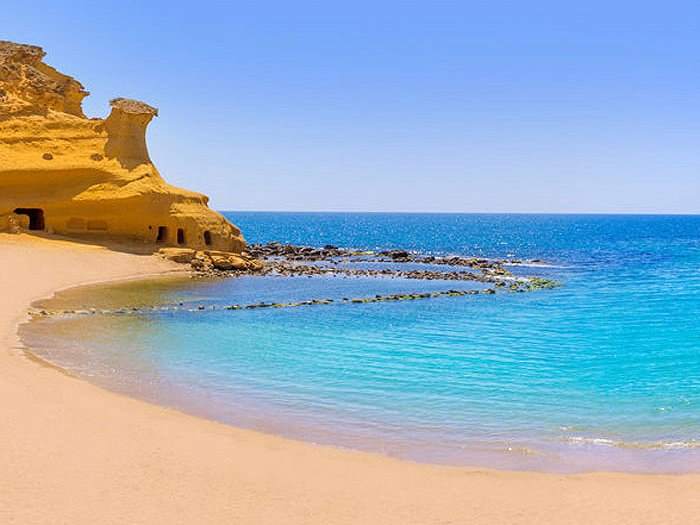 One of the most appealing elements of the Murcian coast is its spectacular beaches, and they're one of the main reasons owners decide to buy a La Manga Club property as well (besides, of course, the ability to enjoy first-class facilities in one of the best resorts in Europe). Just a short distance from our golf resort villas and apartments there are heavenly corners where you can spend a fantastic day at the beach and bathe in the warm waters of the Mediterranean.
On this little trip to the Costa Cálida we want to highlight one of the most beautiful and hidden calas in the province: the ideal beach if what you want is to get away from the busy areas in search of peace and repose. A book, a little bit of shade, and you'll think you've died and gone to heaven.
Los Cocedores Beach
Far from urban areas and possessed of transparent, shallow waters (which make it a great beach for kids, as well) is the Los Cocedores Beach. 170 meters of fine, golden sand on a virgin beach that rivals the hidden islands of the Caribbean.
The beach is at the edge of the Autonomous Community of Murcia and just next to the Las Palmeras Beach. From your villa or apartment at La Manga Club you'll need about an hour by car to arrive, but once you're there you'll know that your little excursion was worth it. Get ready to fall in love with the beach's water, its striking wild cliffs, and the exceptional sandstone landscape dotted with caves.
Many years ago there was an esparto factory very near this beach. Esparto, a material created from various types of plants, is used commonly in Spain to make baskets, shoes, and rope. It has to be dried in order to work with it, and formerly they used this cala for that process. Thus was born the name of this lovely little beach.
With very few facilities and services – don't forget to bring a parasol, water, and something to eat -, Los Cocedores has been able to maintain its charming isolation and it is, without a doubt, one of the best places to go if you're looking to relax and disconnect from the noise and the crowds of the more urban beaches.
So if you're after the perfect plan for your days at your property at La Manga Club, this is an ideal beach to make an escape to. Don't wait! Take advantage of your days of relaxation in our exclusive leisure and golf resort and challenge yourself to explore the beaches of this magnificent coastline.