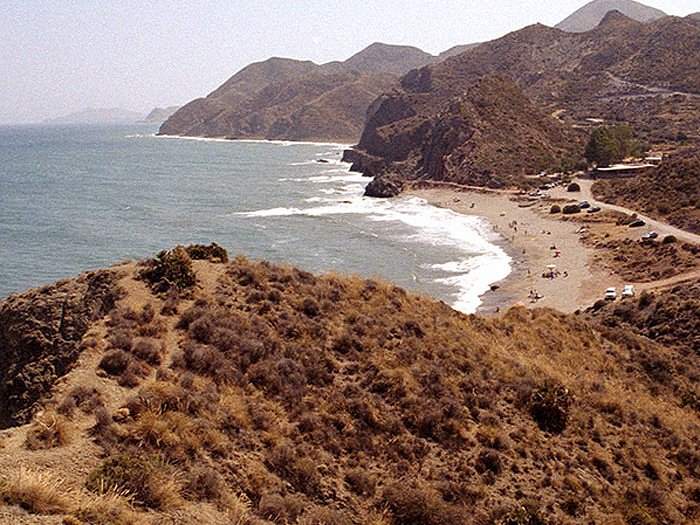 Once you start traversing the Murcian coast, it's easy to understand why so many people feel lucky to have a property at La Manga Club. The beaches of the Costa Calida are some of the most in-demand attractions among visitors and tourists from all over the world; this is a heavenly enclave with an exceptional climate and incomparable landscapes. Many of our residents appreciate that, apart from the fantastic facilities and services offered by our leisure resort year-round, scant kilometres from their homes there are dozens of natural paradises of exceptional beauty. There's no need to choose. One day they can relax on the spectacular pool decks and terraces of our resort, and the next, head out in search of adventure and a great beach where they can take in the culture and the spray of the Mediterranean. On this trip down the Murcian coast, our last recommendation of the season is that you take a day away from the bustle and try this beautiful beach set apart from the rest. Lose yourself here; you won't regret it.
Punta del Sombrerico
Between Cape Cope and the Puntas de Calnegre, on a hidden part of the Murcian coast, you'll find Punta del Sombrerico. This is a virgin beach surrounded by nature, a true beauty with 100 metres of pebbles and golden sand that is reached via a dirt road that veers off at kilometre 9 from the Carretera de Cope that traverses the Aguilas coast.
The best thing about this beach, aside from its beauty, is that it is relatively isolated, allowing you to enjoy it without dealing with throngs of people, even in high summer. It's the perfect place to relax and enjoy a tranquil day with the family. What do you like to do when no one's bothering you? Take advantage of the peace offered by this little corner and plan your escape. A lounge chair, a book, or even a picnic: any plan will do!
Just pick a day to leave behind the comforts of your apartment at La Manga Club and let yourself be seduced by the calm of Punta del Sombrerico. A day of quiet will prove a balsam for your body and soul. It's often these little breaks that allow us to regain our equilibrium and face the new season gladly.
When you feel the need to disconnect, now you know that your paradise of relaxation, our wonderful golf resort, offers some bonuses as well. The Punta del Sombrerico is just 50 minutes away by car. Don't you think it's worth it?