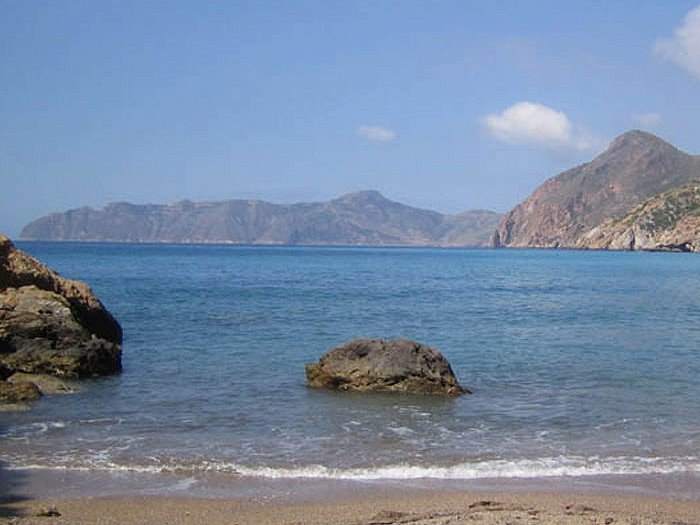 One of the advantages of buying a property at La Manga Club is that, besides the many benefits and services you can enjoy within our leisure and sport resort, outside there's a spectacular golden coast just waiting to be discovered. Incomparable landscapes, sunsets brushed with the Mediterranean breeze, and a ring of natural enclaves rich in flora and fauna are the bouquet that inspire so many interesting excursions to this magnificent slice of the Murcian coast. Irresistibly attractive to visitors and residents alike, our beaches can be tranquil or busy, rural or urban… In this series of posts, we've had a great time helping to bring you closer to one of the rays of sunshine that illuminate La Manga Club.
Today's beach is ideal for those seeking more than sun and sand. Are you an active person? Do you like walking and doing sport? If so, El Portús is for you, and this week we recommend it to anyone who decides to spend a day away from the comfort of her golf apartment at La Manga Club.
El Portús is one of the most interesting beaches on the Costa Calida in Murcia. It's located in the province of Cartagena, in the municipality of Perín, just 30 minutes by car from La Manga Club. Its surroundings are gorgeous, in the midst of a protected natural space of tremendous ecological value, the Natural Park of the Sierra de la Muela, Cabo Tiñoso and Roldán.
At the foot of the beach there's an area populated with small houses and, on the other side, a nudist beach that forms part of the El Portús camping zone, specialized in nature tourism. In the water you'll enjoy extensive sandy banks and depths so clear and full of life that you'll do a little jig for having brought your goggles and breathing tube. If you love snorkeling, this beach will seem like heaven. Don't miss the chance to try out this great activity. Make a list of all the equipment you'll need and explore the submarine riches around you.
If you like hiking too, you're lucky, because just next to this beach is a trail that follows the entire coast of Cartagena. You'll be able to put some kilometers on your legs while you enjoy an unparalleled landscape, combining relaxation and sport just like you do at La Manga Club.
Already thinking about a date to take your pals or family for a day away from our golf resort? This beach will give you a great reason to explore the region and return satisfied that you made an investment in the right place, not only because of its incredible leisure, restaurant and sport facilities and services, but also for the marvellous surroundings it affords you.