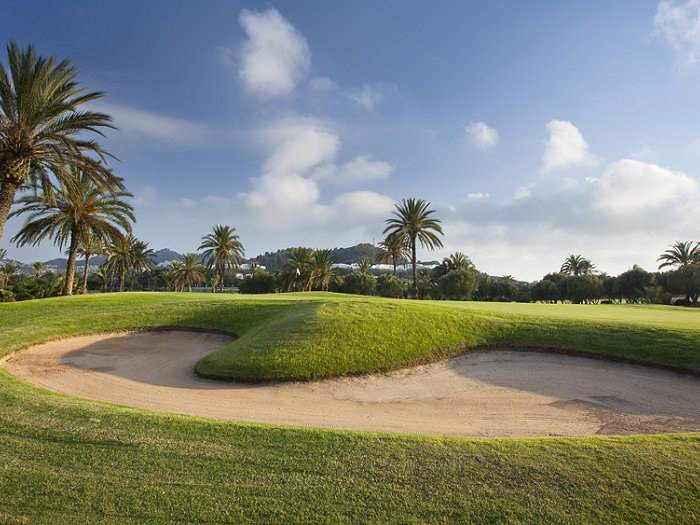 Golf is a sport that can be demanding and glorious in equal measure, but nothing inspires such profound satisfaction as knowing, as your ball slips over the horizon, that you've driven it well. If you're a golfer, at one point or another you'll have thought about buying an apartment in a golf resort. As one of the top European companies in golf course real estate, the experience we've accrued and the wonderful relationships we've developed with our communities have allowed us to pull together this list of five reasons to make up your mind to step – or swing – into action.
Having a golf course next to your home
It may be the most obvious reason, but that doesn't make it any less important. In a golf resort the undulating greens are right outside your door and you can enjoy your favorite sport, year-round, without losing time in transit. When you can get to the club in five minutes, you've got a lot more time to improve your swing. You'll also be immersed in a community of owners who share your passion and with whom you can work to better your game.
A gorgeous natural setting
Another one of the main benefits is the view of freshly mown greens from the windows of your property. In the case of our Las Lomas apartments, specifically designed to allow for enjoyment of the surrounding landscape, our owners can easily while away the hours enjoying the magnificent weather and reading a favorite novel against the backdrop of the golf course. The carefully tended environment of a course puts you in direct contact with nature while still offering the comforts of a home outfitted with every necessity. At La Manga Club, we've also got the sea lapping at our feet and, for lovers of history and urban areas, the opportunity, scant kilometers away, to lose themselves in the ancient neighborhoods of cities like Murcia or Cartagena.
Making a good economic investment
When it comes to money, you've always got to place the safest bet. Buying an apartment in a golf resort community like Las Lomas Village is an investment in your future. These apartments offer enormous value-added as they're located in a sport complex with incredible facilities, giving them, according to industry experts, great future prospects. What's more, thanks to a management contract that currently guarantees 4% returns on buyers' property for the first 4 years, owners earn money when their apartments are not in use and can put it towards their mortgages. This offer, combined with great financing conditions of up to 70%, makes this a proposition with nary a "but" to add.
Having a hassle-free second home
Buying an apartment in a golf resort is the ideal solution for those who want to have a second home from which they can enjoy golf, sport and holidays without worrying the rest of the year about property maintenance or security. In our case, La Manga Club has dedicated teams of professionals responsible for property upkeep throughout the year, and who see to it that the day our owners arrive back at their homes they're just as they left them. Or better.
Enjoying services, sport and dining for the whole family
Resorts like La Manga Club don't just offer apartments surrounded by pretty landscapes; they also offer a wide range of professional services, restaurants and facilities to suit any lifestyle. Owners can take advantage of them as they wish: enjoying the variety of restaurants, trying out the excellent tennis or cricket facilities, relaxing in the spa or pool… And all without having to worry about their little ones, who enjoy total freedom to move about in a safe environment where they benefit from the incredible catalogue of sport academies at their disposal. As one of our owners told us, buying an apartment in Las Lomas was the best choice he ever made for his family. What more could you ask for?