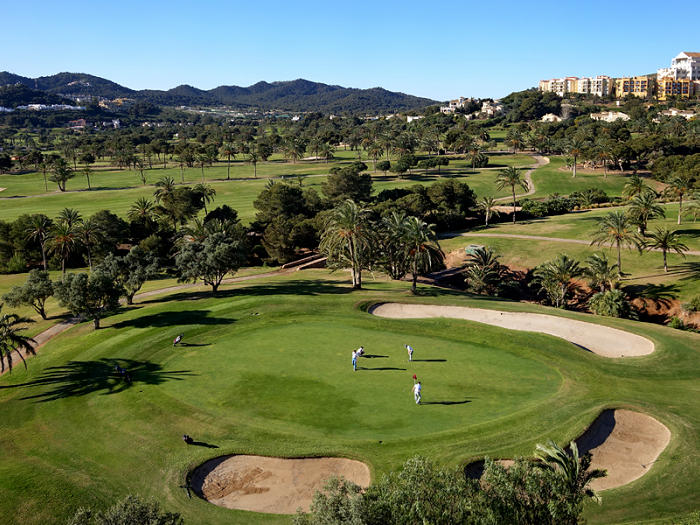 If you dream of greens and holes and your idols are Tiger Woods and Jon Rahm, you'll find that the best golf course in Spain awaits you at La Manga Club. Whether you never stop practicing your swing or you're just beginning to immerse yourself in the wonderful world of golf, with a home at La Manga Club, it's easy to make your golf dreams come true.
This isn't just a great investment. Owners of a property at La Manga Club enjoy a mild, warm climate next to the Mediterranean with a sun that shines nearly every day. Our enclave lies next to natural landscapes worthy of the best adventurers, and offers incredible leisure and sport opportunities thanks to the carefully tended facilities.
Ask any owner, whether an experienced golfer or a beginner, and she'll tell you that the proximity of her residence to the golf course is a motivation and an impetus to practice her chosen sport more often and more intensely. What's more, living near others who share the same passion is a great chance to develop relationships that begin on the fairway and continue after the rounds are over.
The three 18-hole golf courses at La Manga Club are all rated in the Top 100 in Europe and the South Course has hosted the Spanish Open and many other professional tournaments. Altogether, the courses, designed by such greats as Arnold Palmer and Dave Thomas, offer not only almost six square kilometers of playing area, but great opportunities to learn and improve. The Golf Training Center, under the leadership of Swede Thomas Johansson, has practice, driving, and putting greens, as well as expert instructors and secret weapons: Swing Catalyst and Trackman are part of the high-end technical support that La Manga Club offers, and these tools are used even by professionals at the highest levels to up their games.
An attraction for beginners and professionals alike, there's no reason not to explore all three courses. The North Course is technically accessible, The South Course offers an intermediate level of play, and the West Course is a technically demanding course that will challenge any player.
But even those who have never picked up a club will benefit from time at the Academy, where numerous types and intensities of instruction are available for all players. Individual or group classes, whatever your preference, will draw you further into the game at the pace you set. And you can try the lovely and entertaining Pitch & Putt, designed by Severiano Ballesteros, alone or even with your family.
If your children are just awaking to the wonders of golf, La Manga Club is the perfect destination, with plenty of offers for children at the Academy. And the aforementioned Pitch & Putt, as well as the minigolf course, will let you share your passions with the next generation. At La Manga Club, children have always been a priority, particularly when it comes to facilitating outdoor activity. Most importantly, you'll know that their safety is guaranteed, with watchful professionals and gentle greens to introduce them to this wonderful game.
An exceptional climate and location, sport on your doorstep, natural surroundings, opportunities to learn, and family activities. What more, as a golfer, could you ask for? These reasons, and sheer love of the fairways at your feet, are the reason any course at La Manga Club can be considered one of the best golf courses in Spain. Come and see for yourself!