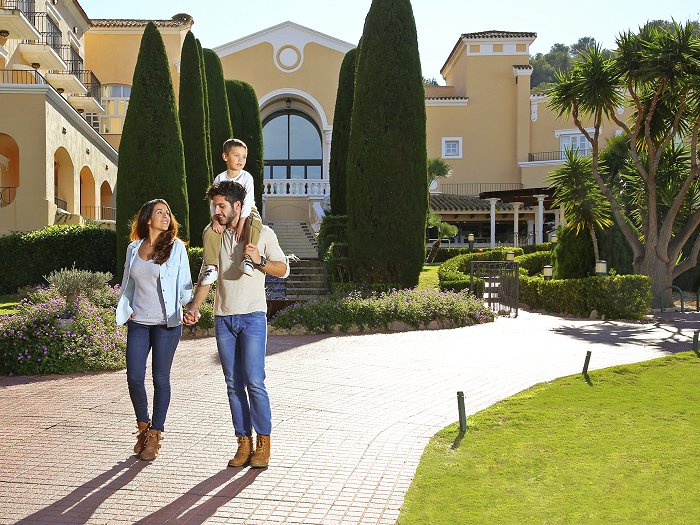 Thanks to the country's geographical location, exceptional climate, and a constant flow of visitors, investing in holiday rentals in Spain is a great business opportunity. You can have a second residence in southern Europe, spend time in it when you like, and reap the financial rewards the rest of the year. You'll always find tenants because the trend leans ever more toward apartment rental and away from hotel accommodation: tourists increasingly value their privacy, digital nomads need quiet spaces to connect to the Internet, and families want personalized experiences. For all of them, the benefit of a holiday rental or tourism apartment is getting even more amenities and security than a hotel can provide.
At La Manga Club, our exclusive selection of apartments is accompanied by unique sport facilities, making them even more attractive, and today we explain the 5 steps required to acquire a property and launch yourself into the world of holiday rentals.
1. Choose the best location
Beach or mountain? Rural area or city? Choosing the location of the vacation home you want to buy is crucial for attracting guests. Weather is one of the factors to take into account, to be sure, but it is not the only one. You should also consider which places of interest are close to the property, tourist attractions, restaurants and leisure activities.
Owning a holiday home in a Mediterranean country is a great advantage because it allows you to escape the cold weather at any time of the year. With an average annual temperature of 22ºC, La Manga Club is the destination of many tourists, both Spanish and international. Its privileged location, in the Region of Murcia between the Mediterranean Sea and the Mar Menor, offers easy access to numerous golden beaches, a wide variety of watersport companies, and natural areas of incredible beauty like the Calblanque and Monte de las Cenizas Regional Park and the internationally renowned marine reserve of Cabo de Palos and Islas Hormigas.
And if we add to that the three highly rated golf courses next door, as well as multiple bars and restaurants, La Manga's Club's value increases tremendously by offering a combination of sport, relaxation, and leisure.
2. Research the value of the property
Before making a decision, it is important that you determine the property transaction's financial and logistical requirements and to know if it the residence is correctly priced according to its features and characteristics.
From a financial point of view, you can hire an advisor or use algorithm-based tools that evaluate the property based on various considerations. From a logistical point of view, you should research additional factors that influence the value of a holiday rental, including whether it is physically attractive to guests; whether there is steady accommodation demand in the area; the amount of local competition and what the prices of the nearest vacation rentals; what the surroundings are like; and whether it can be reached easily from the rest of the country and other European cities.
Murcia, for example, has an extensive road network that connects it with the rest of the country and two nearby international airports with direct flights to all the principal European cities. This makes it an attractive and accessible destination that gives the properties at La Manga Club added value as an investment option for holiday rentals.
3. Take the house's condition into account
If you want to buy a home with the objective of renting it, its condition is crucial to providing your guests with the best vacation experience and giving them access to the services and amenities that make them feel safe.
At La Manga Club, whose modern facilities are always in impeccable condition, several of our properties are fully furnished, decorated and equipped with tasteful accessories, have renovated bathrooms and kitchens, and offer natural light throughout the day and excellent views of the resort and its surroundings. Our new-build properties use high-quality materials and come equipped with top-brand fixtures and appliances.
And if there is one thing our owners consistently value, it is the peace of mind that comes with living in a safe tourism complex. We have a security team that works 24 hours a day and controls all access points, so you won't spend extra money to guarantee the safety of your guests.
4. Determine the financial opportunity
Stability is a key factor for real estate investment, so before investing in a rental property, we recommend that you make an estimate of the income it could generate. To do this, you must take into account factors like occupancy rates, average rental prices, etc.
A resort with a long history like La Manga Club has a solid community fabric that will continue to stand the test of time. The professional-level facilities for golf, football and tennis are the main attraction for an international market, and guarantee high regular occupancy rates. This year, we celebrate 50 years as a premier destination for sports lovers and are proud to continue being such a welcoming and beloved vacation destination.
5. Evaluate maintenance expenses
In addition to the facilities and services you offer, as the owner of a vacation rental apartment, you will have to ensure that the maintenance and cleaning are excellent to guarantee your guests all the comfort they need during their stay. You should also think about what, if any, renovations, refurbishments or new technologies will add value to your property. This is one of the keys to making your guests happy and comfortable enough to return.
Investing in holiday rentals in Spain can be a great business opportunity. You should, however, make careful evaluations and seek out a place that ticks all the important boxes. At La Manga Club, you'll find a wide range of properties, and some of them may be the perfect combination of investment and enjoyment you've been seeking.