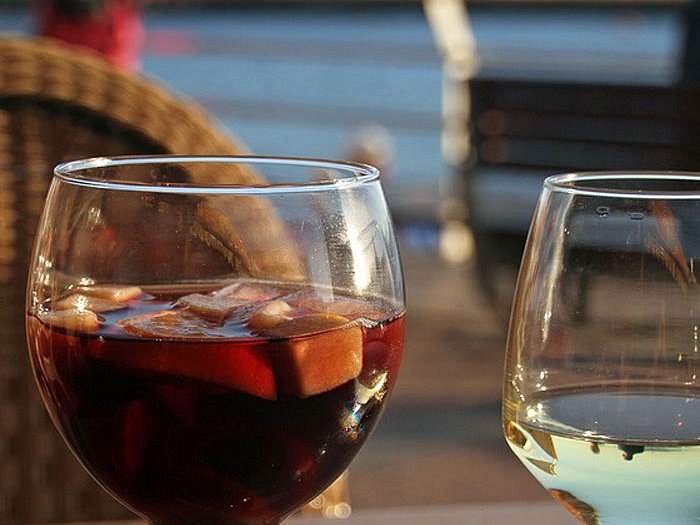 The climate and the heavenly beaches on the coast of Murcia, so accessible from our properties at La Manga Club, make our leisure and golf resort the perfect place to spend your family holidays in summer. This is the time to enjoy intense days of sun at the beach, swims in crystal blue waters, beautiful sunsets, dining by the sea, and refreshing cocktails. Today we'd like to focus on those refreshing cocktails by offering you four beverages typical of Spain that you can sip quietly in the shade of the terrace of your golf apartment or villa. Take note and get to mixing!
Valencian orange juice (and a little something else)
Rich in water, minerals, vitamins, antioxidants, and other nutrients, depending on the fruit used to make them, juices are ideal for taking care of ourselves from within while enjoying a little refreshment. As an accompaniment or a dessert they are wonderful at any time of day, and here in Spain, where the heat is insistent, it's common to combine them to quench your thirst.
Valencian oranges are internationally renowned, and grown right here at home just a few kilometers from La Manga Club. They are always a great choice. But to offer you something a little more original, give a banana-avocado-grapefruit juice a try. These three fruits are a great source of vitamin C, sodium, and potassium, making them perfect allies in the quest to keep your skin beautiful and healthy in the heat. And if you've fallen head over heels for the region's citrus fruit, add some orange, lemon or mandarin (which will also help preserve the juice longer once the fruit have been blended). The sky's the limit!
Spanish sangría
What would a Spanish summer be without it? This is a light alcoholic beverage that uses wine, a mix of liquors and fruit juice as a base. Fresh and sweet, it's ideal for almost any occasion, especially as this isn't a glass or cocktail to sip solo but a pitcher meant to be shared among friends. You could order one at a La Manga Club restaurant or try your hand at making your own to enjoy with family and friends on the terrace or in the garden of one of our fabulous properties. First chop up some fruit – typically orange, lemon, apple, peach, pear or banana – then add a litre of red wine and a glass of cognac or brandy. 4 teaspoons of sugar come next, then a bit of nutmeg or cinnamon, and finally some Gaseosa (a sweet soda very common in Spain). Leave it all to blend together for a couple of hours before serving over ice.
Horchata
Horchata is found up and down the Mediterranean coast of Spain, and for many it's the best version of horchata in the world. The base is water, sugar and tiger nut (chufas in Spanish), a tiny tuber shaped like a knot that comes from the roots of the tiger nut sedge or earth almond, so called because the plant's fruit looks similar to an almond.
Though it's not an easy beverage to make at home because extracting the juice of the tiger nuts is quite laborious, you can find horchata in almost any bar. We recommend that you try to find a craft version, as they're much better than their poor supermarket-brand cousins. If you do, you'll be able to enjoy the unique and authentic flavour of this delicious beverage at mid-afternoon outside on the balcony of your apartment at La Manga Club.
Agua de Valencia
This is a combination that is, without a doubt, one of the most refreshing you will find. Combine one part cava (Catalan sparkling wine) and one part freshly squeezed orange juice, and, if you're feeling frisky, a bit of gin and vodka. Then add a bit of sugar to taste to give it a little sweetness. We recommend that you prep your Agua de Valencia ahead of time and chill it in the fridge until it's nice and frosty. This will assure the perfect melding of its aromas. You'll find yourself enjoying a delicious cocktail that will delight your friends. Careful it doesn't go to your head!
Like the recommendations? Don't forget to try them out the next time you enjoy a short break to your lovely property at La Manga Club. A stay here doesn't just mean world-class facilities and beaches at your fingertips; it's also a chance to dive into the cultural and gastronomic richness of the Mediterranean, where, as you can see, there's loads to explore.